Brent oil hits $99/b on Ukraine-Russia escalation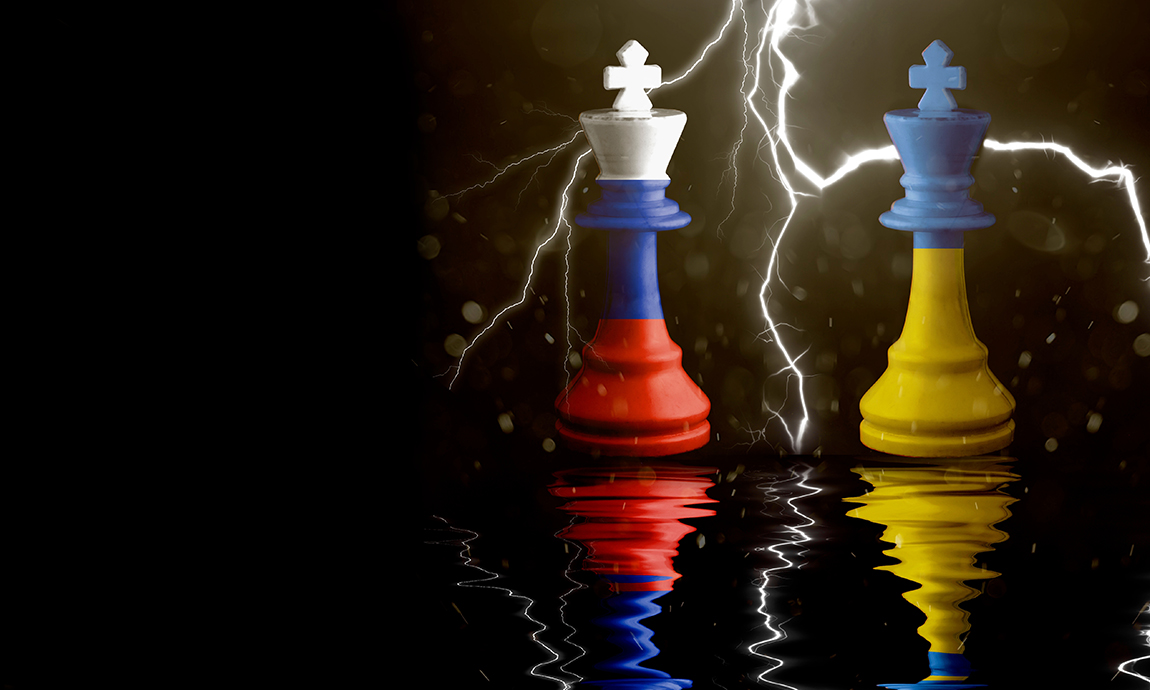 Brent crude jumped to as high as $99/b while WTI rose to $95/b for the first time since 2014 on Tuesday morning following the overnight decision of Russian President Vladimir Putin to recognize the independence of the two self-proclaimed and pro-Russian republics of Donetsk and Luhansk, which are in the Donbas region of eastern Ukraine.
On top of that, Putin ordered his "peacekeeping" forces to enter the two separatist regions, violating the international law for Ukraine's independence, sovereignty, and territorial integrity within its internationally recognized borders.
It's good to be mentioned that the conflict between the Ukrainian army and the Russian-backed rebels in the Donbas region began in 2014 and caused the life of above 13,000 people, came shortly after Russia's illegal annexation and occupation of Crimea the same year, a Russian-speaking peninsula on the Black Sea.
Brent approaches the $100 key level:
Brent price gained up to 4% this morning to near the $100/b key level after the dramatic escalation of the conflict in Ukraine, before retreating at $98/b later the day.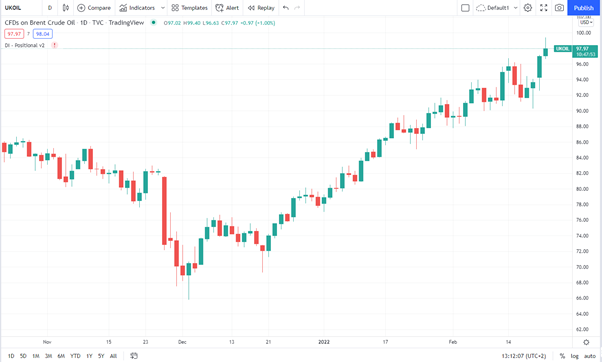 Brent crude, Daily chart
Investors fear for possible oil & gas supply disruptions from Russia which has been the third-largest exporter of crude oil in the world after the U.S and Saudi Arabia and the largest supplier of natural gas to the European Union.
Russia supplies Europe with 3 million barrels per day and the rest of exports volumes go mostly to Asian customers, especially in China through pipelines.
Crude oil prices gained more than 25% this year and almost 90% since the beginning of 2021 amid the supply/demand imbalance, recovering fuel demand, geopolitical risks in Ukraine and the Middle East, tight supplies, low inventories, and minimum spare capacity from OPEC+ alliance.
U.S. allies eye Russia sanctions:
U.S. and allies have warned that Putin's recognition of the separatist regions in Ukraine could serve as a possible prelude to a Russian invasion and pledged to react with sanctions against those involved in this illegal act.
The EU has frequently stated that if Russia invades Ukraine, it will inflict "huge consequences" on its economy, but has also stated that, due to the EU's significant energy and trade ties with Russia, sanctions will be placed in stages.
Important Information: This communication is marketing material. The views and opinions contained herein are those of the author(s) on this page, and may not necessarily represent views expressed or reflected in other Exclusive Capital communications, strategies or funds. This material is intended to be for information purposes only and is not intended as promotional material in any respect. The material is not intended as an offer or solicitation for the purchase or sale of any financial instrument.