China's exports grew faster than expected despite "Delta" virus outbreak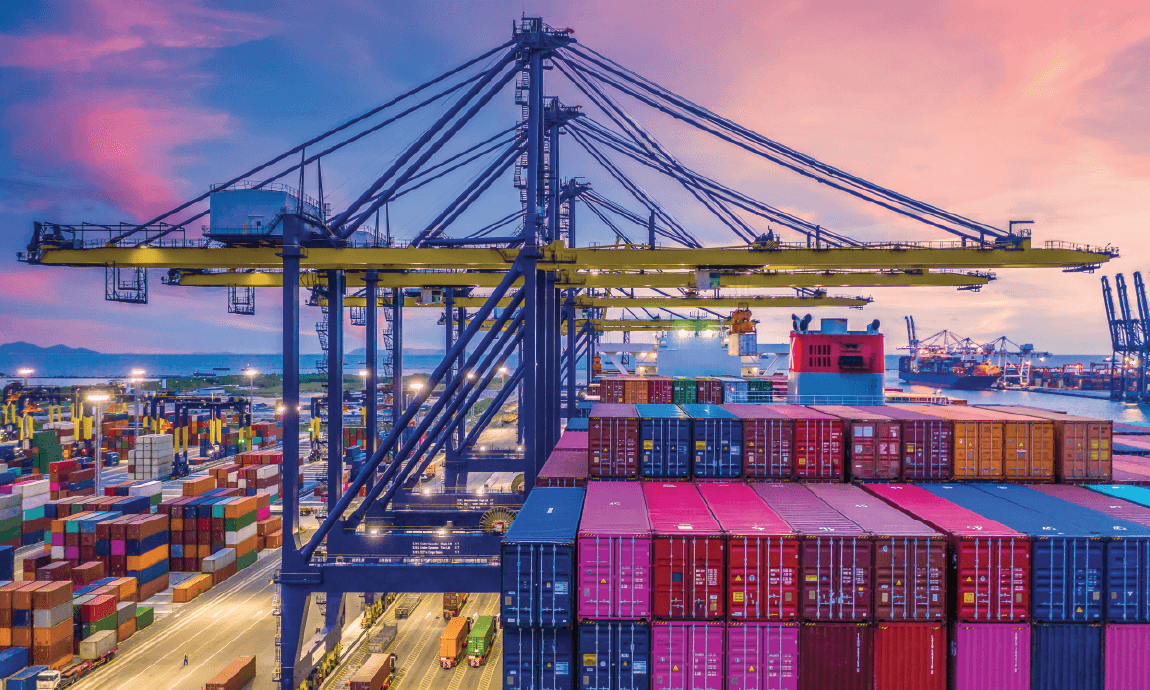 Chinese equities advanced by more than 1% this morning following better-than-expected China's trade data for June on robust global demand, despite the spread of the highly infectious "Delta" Covid variant in the Asian-Pacific region.
Hong Kong's Hang Seng index reacted positively to the trade data, settling to near the 28,000 mark, up 1,6%, while mainland's bourse Shanghai composite rose 0.50% to close at 3,566.

China's trade data for June:
China's customs administration surprised the market analysts on the upside by announcing that China's exports for June were 32.2% higher than June 2020, which was also much greater than a forecast by analysts in a Reuters poll for a 23.1% growth in exports for the same month. The data also showed Chinese imports in June surging 36.7%, with the values boosted by higher cost of commodities prices, such as crude oil, copper, soybeans, iron ore, and natural gas.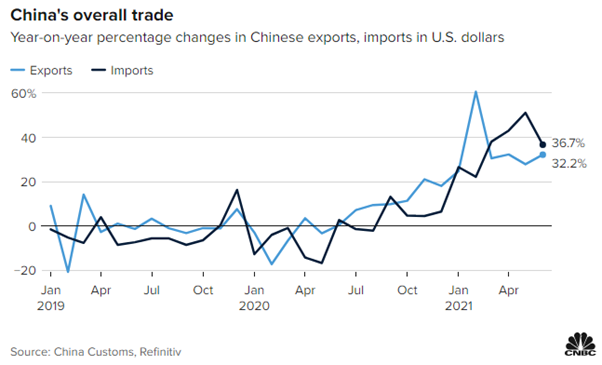 Improved global economic outlook boosts China's exports:
Given the global easing in pandemic-led social restriction measures and the successful vaccination campaigns, global economies have started recovering faster than expected from the pandemic, driving higher retail consumption and worldwide demand for Chinese goods.
The surprisingly strong Chinese trade data in June implied that global demand remained strong and helped reassure investors that the world economy was recovering from the pandemic, despite the spread of the "Delta" variant.
Hence, the People's Bank of China applies more "accommodative" monetary policies to support the economic growth in the country by cutting the amount of cash that banks must hold as reserves, especially as smaller firms were unable to pass on rising raw material costs.
Market analysts expect the Chinese economy to expand 8.6% in 2021, the highest annual growth in a decade, after a 2.3% expansion in pandemic-hit 2020.
However, China has set an annual economic growth target at above 6% in 2021 and a growth of 5.5% in 2022, below analysts' expectations, giving policymakers more room to cope with pandemic-led uncertainties.
"Delta" covid variant threat ahead:
A customs official warned yesterday that China's trade growth may slow in the second half of 2021, partly reflecting the Covid-19 pandemic uncertainties as the "Delta" variant has been fast-spreading across the region.
The trade performance of the world's second-biggest economy has seen some pressure in Q2 2021, as the higher commodities prices hurt manufacturing activity, while the global semiconductor shortage, logistics disruptions, and higher shipping-freight costs weigh on the global consumer spending.
Important Information: This communication is marketing material. The views and opinions contained herein are those of the author(s) on this page, and may not necessarily represent views expressed or reflected in other Exclusive Capital communications, strategies or funds. This material is intended to be for information purposes only and is not intended as promotional material in any respect. The material is not intended as an offer or solicitation for the purchase or sale of any financial instrument.