Kazakhstan turmoil boosts Crude oil and Uranium prices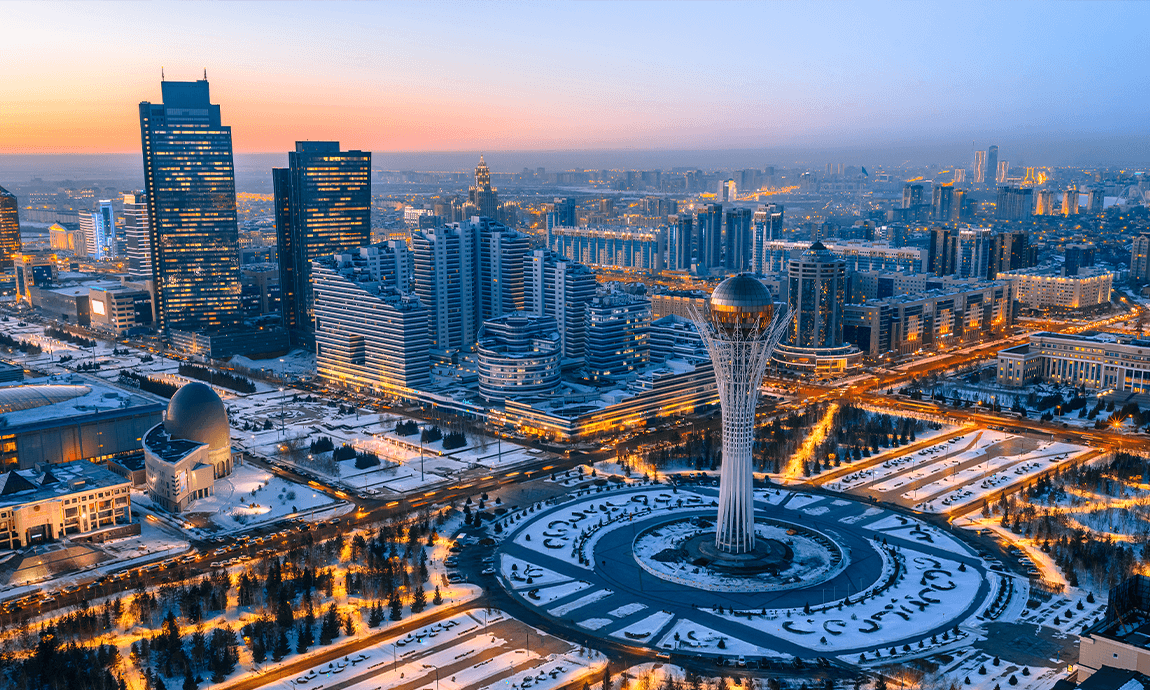 Crude oil prices gained 5% last week, posting their largest weekly gains since early December 2021, following the news that protests in Kazakhstan had temporarily disrupted oil production from the top oilfield Tengiz in the Caspian Sea.
Hence, oil prices received an additional boost after pipeline maintenance in Libya removed almost 750k bpd from the global markets. Libyan oil production recovered to nearly 1,3 million bpd after falling to zero amid the civil war in the previous decade.
President Kassym-Zhomart Tokayev has declared a state of emergency with a curfew and movement restrictions until January 19 in Kazakhstan, where protests have swept across the country, prompting the government to resign.
Kazakhstan riots disrupt crude oil production:
The international benchmark Brent crude topped $83/b and the U.S-based WTI contract climbed up to $80/b level on Friday as supply disruptions to the oil-rich Kazakhstan offset concerns over Omicron-led fuel demand slowdown.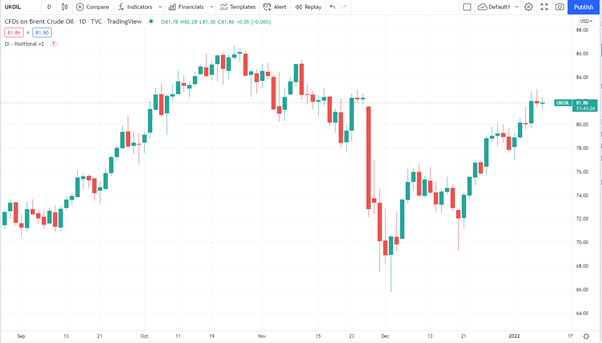 Brent crude, Daily chart
Crude oil productions at Chevron-operated Tengiz oilfield, which has been the largest in the country with an approx. 700k barrel per day capacity was reduced last week after some local contractors disrupted train lines in support of anti-government protests.
Kazakhstan is a major oil producer with an output of about 1.9 million barrels per day in recent months, and a key member of the OPEC+ alliance led by Saudi Arabia and Russia, while it has rarely seen production disrupted by unrest or natural disaster.
Even though Tengiz's production has been restored, Brent's price remains well above $80/b at the beginning of the week, as energy traders worry about the fragility of the global crude supply amid the periodical disruptions in Libya, Nigeria, Iraq, Malaysia, Venezuela, Ecuador, and Angola.
Uranium prices surge on Kazakhstan unrest:
The instability in Kazakhstan threatens the output of nuclear fuel "Uranium" as well since the Central Asian country has been the world's largest producer of radioactive metal, at a time the global supplies are becoming tighter.
Uranium prices rose sharply by 8% last week, climbing to as high as $45/pound, on concerns that riot-led transport disruptions might impact Kazakhstan to supply Uranium to global utility companies in the U.S, China, Japan, and elsewhere for nuclear power and energy power generation.
Kazakhstan is the world's top uranium producer, accounting for around 40% of global supplies estimated at 50,000 tonnes a year.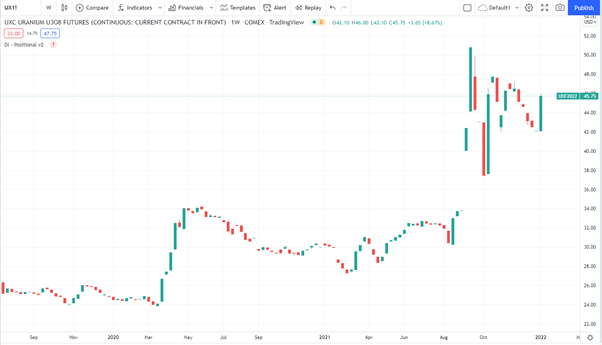 Uranium contract, Weekly chart
Uranium price made a stunning comeback in 2021, doubling up in value as investors bet nuclear power will enjoy a renaissance as governments turn away from fossil fuels due to their green energy policies.
How has unrest started:
The demonstrations started in Kazakhstan's oil-rich western region of Zhanaozen on January 02, 2022, with initial anger over the government's decision to remove price caps for liquefied petroleum gas (LPG) butane and propane on New Year's Day, which many Kazakhs use to fuel their LPG-converted vehicles because it's cheaper than gasoline.
The unrest continued immediately to the main cities in the next days; with the anger expanding to wider unhappiness with the autocrat's government over corruption, living standards, poverty, and unemployment in the resources-rich and former Soviet nation, all of which have worsened by the pandemic-led social and financial crisis.
The protestors clashed with police and security services, leading to the fire of many government buildings in major cities, while they also stormed capital Almaty's airport, forcing Kazakhstan's national airline, Air Astana, to cancel all flights until the situation stabilizes.
Dozens of police officers and protestors were reported killed and more than 1000 people injured because of the turmoil, with security forces reportedly firing on protesters and explosions being heard close to Republic Square in Almaty.
Russia's and CSTO deployment in Kazakhstan
Russia and several former Soviet states including Belarus, Armenia, Kazakhstan, Uzbekistan, Kyrgyzstan, and Tajikistan, known as the CSTO security alliance (Collective Security Treaty Organization) have transferred military forces to Kazakhstan to help suppress the unrest and stabilize the situation under a CSTO decision.
Russia keeps very close relations with Kazakhstan as it uses the Baikonur Cosmodrome in the south of the country as the launch base for its crewed space missions, while around 20% of its 19 million population was ethnically Russian.
Important Information: This communication is marketing material. The views and opinions contained herein are those of the author(s) on this page, and may not necessarily represent views expressed or reflected in other Exclusive Capital communications, strategies or funds. This material is intended to be for information purposes only and is not intended as promotional material in any respect. The material is not intended as an offer or solicitation for the purchase or sale of any financial instrument.