Market volatility after Federal Reserve's hawkish outlook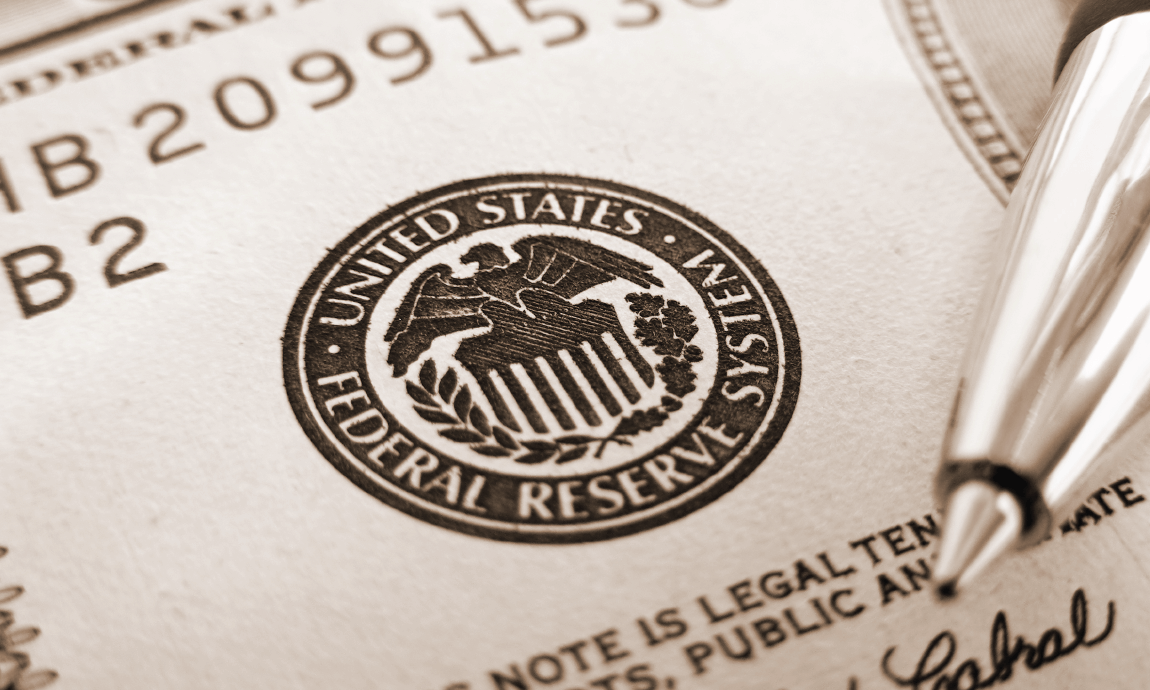 It was another wild session for the global financial markets on Wednesday, with equities starting with significant gains and finishing lower following the latest hawkish monetary policy decision from the U.S. Federal Reserve to curb the soaring inflation.
Investors worry that the speed with which the Fed would tighten its accommodative monetary policy, higher interest rates, together with record-high inflation could have a significant impact on the economic recovery after the pandemic.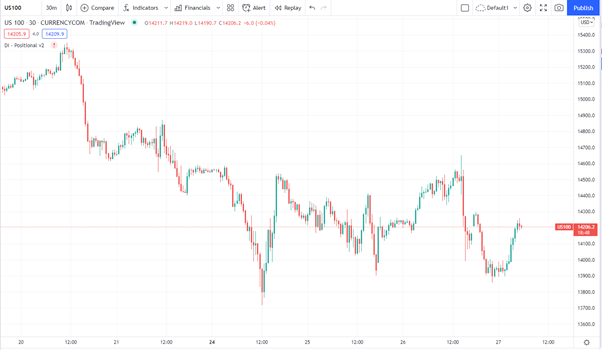 Nasdaq Composite, 30-minutes chart
However, futures tied to the U.S. stock indices and European equities managed to recover earlier losses on Thursday morning, with the tech-heavy Nasdaq Composite turning positive by 0,50% as dip buyers come back to the market after the fierce tech sell-off.
Fed's hawkish stance:
Markets erased earlier gains on Wednesday after Fed's chair Jerome Powell signalled that the bank could soon raise interest rates beginning in March, for the first time since December 2018.
Powell continued saying that there was room for further interest rates hikes and policy tightening without threatening employment, concluding that the central bank was of a mind to begin hiking rates to as soon as March.
The statement from Powell's press conference comes in response to CPI- Consumer Price inflation index running at its hottest level in nearly 40 years of 7% in December 2021, much beyond Fed's inflation target of 2%.
Some analysts speculate that Fed might raise rates more than 4 times this year, or even hike in 50-basis-point in March to cool high inflation.
U.S. dollar rises to two-month high:
U.S dollar rose across the board yesterday as forex traders turned bullish on the greenback following Fed's hawkish stance.
The DXY-U. S dollar index which measures the greenback against major peers jumped to near 97 mark last night, its highest since mid-December,2021, getting support from the rally in U.S. bond yields which have managed to climb to pre-pandemic levels.
The yields of the 2-year bond rose to 1,20% on Thursday morning, climbing to a 23-month high, while 10-year yields hovered near one-week highs of 1,90% touched in the previous session.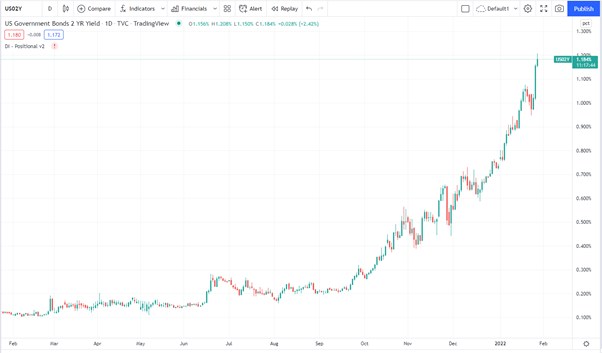 2-year U.S. Treasury yield, Daily chart
The soaring greenback pushed the rest of the currencies lower, with the EUR/USD pair breaking below the $1,12 support level for the first time since late November 2021, while Japanese Yen retreated towards 115.
A similar picture on the growth-led currencies, with Pound Sterling falling to $1,34 level, losing almost 300 pips since mid-January, while the Australian and Canadian dollars dropped to $0,70 and $c1,27 respectively despite Brent crude topping $90/b on soaring geopolitical tensions in Ukraine and the Middle East.
Precious metals retreat on higher dollar and yields:
The stronger dollar and the higher bond yields pushed precious metals 1,5% lower yesterday, with the price of the Gold retreating towards the $1,800/oz support level, while Silver fell to as low as $23/oz, hitting a two-week low.
A stronger dollar, higher bond yields, and interest rate hikes dent the appeal of dollar-denominated bullions by raising the opportunity cost of holding non-interest paying Gold and Silver.
Important Information: This communication is marketing material. The views and opinions contained herein are those of the author(s) on this page, and may not necessarily represent views expressed or reflected in other Exclusive Capital communications, strategies or funds. This material is intended to be for information purposes only and is not intended as promotional material in any respect. The material is not intended as an offer or solicitation for the purchase or sale of any financial instrument.