A chart that testifies to a bullish market

The chart below from Goldman Sachs research shows that short interest for the S&P 500 Index are at all-time lows. In other words, those that are betting on the index falling, are a very rare breed.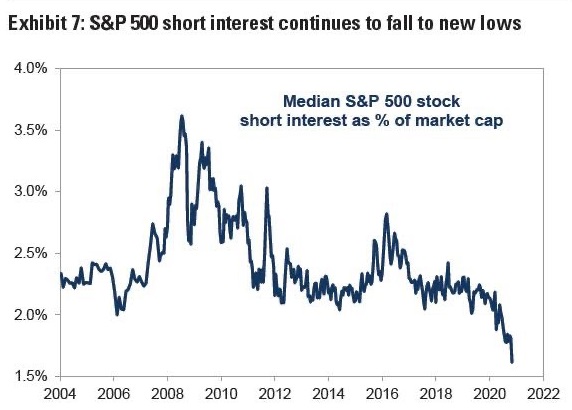 Many years ago, this chart would have been interpreted as a contrarian indicator. The logic being that, with record bullishness everywhere, it's probably time to sell. However, this time around I think we have to take this data at face value. And that is none other than a bullish indication.
The reason why short interest is probably so low, is not for a lack of institutional investors who think that markets cannot go down, but probably because they have been squeezed out of their positions in attempting to do so.
With liquidity continuously coming into the market from all sides (Central banks and physical spending), it is no wonder equities keep going up.
Also keep in mind that bonds, especially sovereign debt, is not an option for most institutional investors. If institutions want yield, they will not find it in debt, unless they want to take on a lot of risk. And when searching for yield, equities are probably the route at the current time.
The bottom line is that all roads continue to lead to equities. The record low short interest is probably a testimony to this. And contrary to the past, a record short interest currently cannot be interpreted as a contrary indicator, but has to be interpreted at face value, that being that is still a very bullish market.
Important Information: This communication is marketing material. The views and opinions contained herein are those of the author(s) on this page, and may not necessarily represent views expressed or reflected in other Exclusive Capital communications, strategies or funds. This material is intended to be for information purposes only and is not intended as promotional material in any respect. The material is not intended as an offer or solicitation for the purchase or sale of any financial instrument.