While major indices don't show it, and most investors don't see it, many parts of the technology sector are crashing. And by that, I mean that many stocks have been falling for months now, even if this internal technology correction has not affected the major indices (yet).
Almost all EV stocks are way off their highs, perhaps with TESLA having corrected the least. Even highly covered and talked about stocks like Quantum Scape, that is developing a next generation battery for EV cars has gone from about $130 to $28. AMD had its best quarter ever and has fallen about 15% from its last report. Even Apple has not been able to rally, even if its quarter blew the consensus away. ZM has fallen over 50% from its highs, and DOCU which reached almost $300 a share last year, is trading at around $190.
In fact, perhaps a better illustration of what has been happening is the ARKK EFT, that has many of the high flying names mentioned above.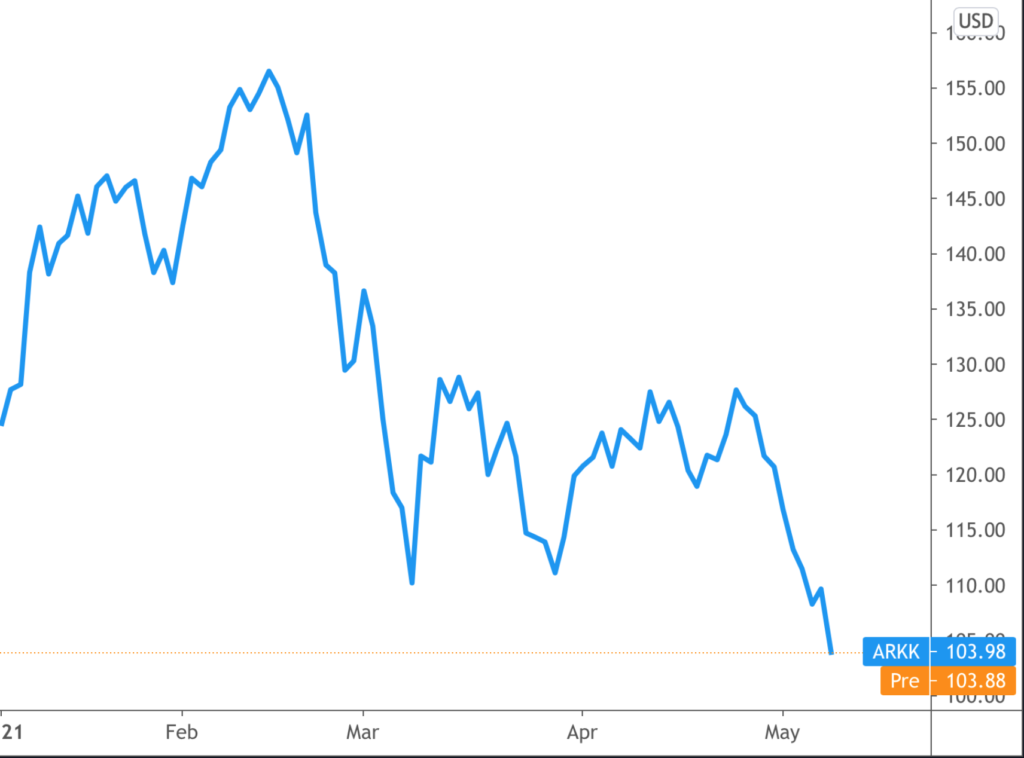 The ARKK ETF has lost about 1/3 of its value from its high, and down about 20% year to date.
The question is, is this technology correction over and might many of these stocks be a buy?
My answer is no. Even after a huge correction, most of these names are still not investable. The reason being valuation concerns. In my book, stocks like AMD and ZM would have to fall by an additional 60% or so, before valuations make any sense.
The next question is, will the correction in technology bring the entire market down? The answer is we don't know, but so far, the major indices are not showing signs of stress (yet).
However, if stocks like Apple make a serious correction, then all bets are off. The market will probably correct by a lot. But in order for that to happen, we would have to see a lot of money exiting this market, especially from passive funds.
And what might be the reason for a rush to the exists from investors? Two things come to mind these days, inflation and an increase in capital gain taxes in the US.
However, don't blame the correction on neither of these issues. At its core, the correction we are seeing in the technology space has everything to do with valuations and investors getting carried away than anything else.
Important Information: This communication is marketing material. The views and opinions contained herein are those of the author(s) on this page, and may not necessarily represent views expressed or reflected in other Exclusive Capital communications, strategies or funds. This material is intended to be for information purposes only and is not intended as promotional material in any respect. The material is not intended as an offer or solicitation for the purchase or sale of any financial instrument.