Why is consumer sentiment falling like a rock?

If one looks at consumer sentiment vs the major US indices over a very long period of time, they will notice that they are correlated. That is until recently. The chart below depicts divergence unlike anything we have seen before.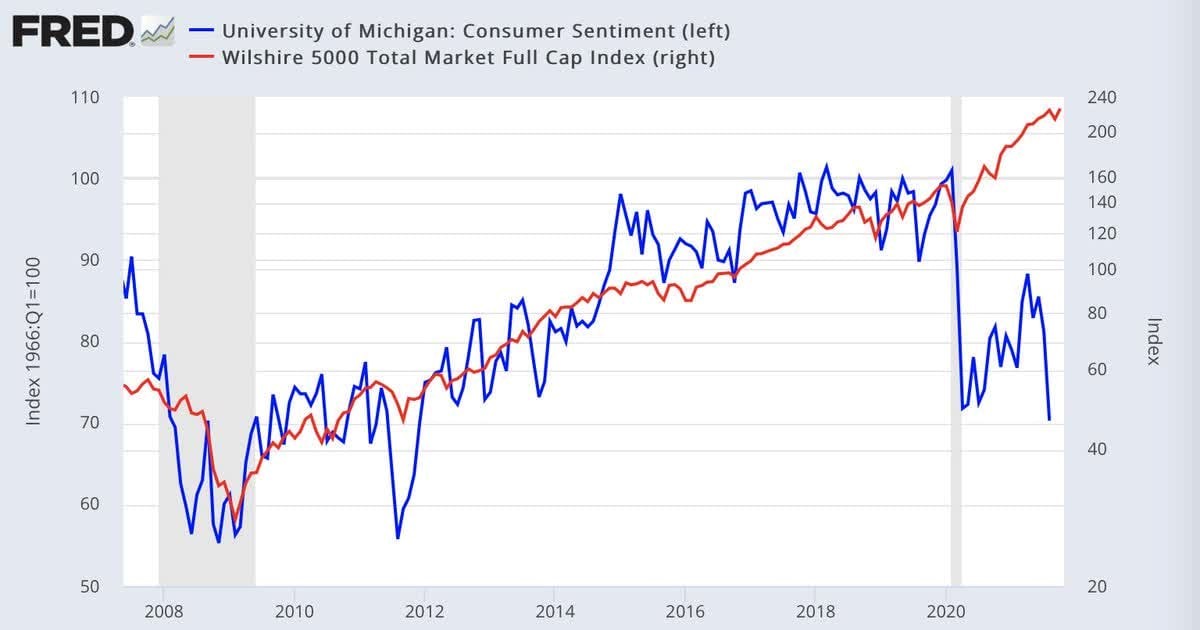 As is clear from the chart, consumer sentiment has dropped like a rock while the Wilshire total market cap index is at a record high.
So, the question is, who is wrong? Are consumers wrong and sentiment will soon come back with a roar to coincide with the market? Or will US markets correct to come to terms with consumer sentiment?
Sentiment should be higher today if one takes into consideration the low unemployment rate, voluntary job quits, high savings and record consumer net worth. All these should have reflected a much rosier sentiment picture, but they haven't.
The bottom line is that many strange things have happened during this economic cycle. The divergence we are seeing in consumer sentiment vs the market is one of them. Whether this divergence means anything insofar as markets are concerned is unclear. At least for now markets are shrugging it off. Nevertheless, it is an interesting revelation and something to keep an eye on.
Important Information: This communication is marketing material. The views and opinions contained herein are those of the author(s) on this page, and may not necessarily represent views expressed or reflected in other Exclusive Capital communications, strategies or funds. This material is intended to be for information purposes only and is not intended as promotional material in any respect. The material is not intended as an offer or solicitation for the purchase or sale of any financial instrument.