Aluminium jumps to near 13-year high on supply disruptions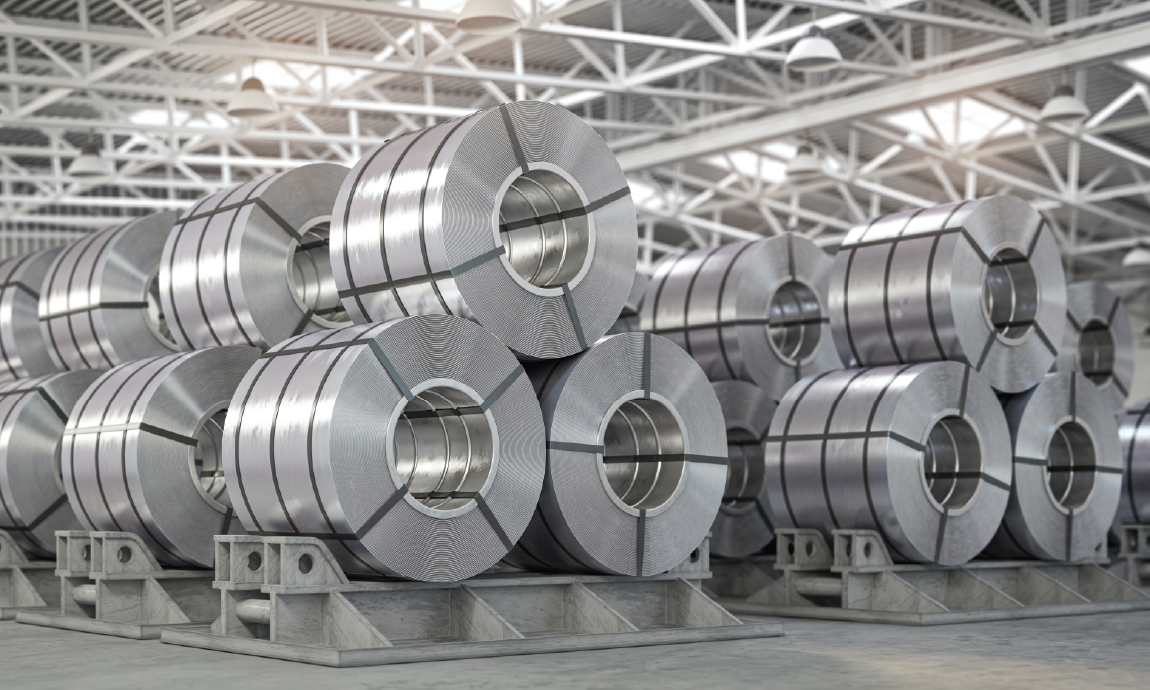 Aluminium price rose 2% to $3,170/Tn on Tuesday morning, posting its highest level since mid-October 2021, on growing concerns over supply shortages in China, falling inventories, geopolitical risk in Ukraine and Guinea, and the robust global demand.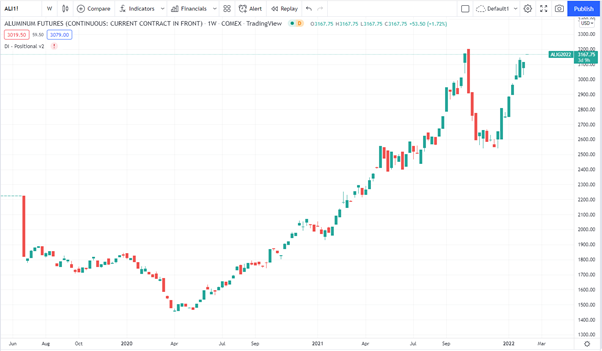 Aluminium futures, Weekly chart
The price of the valuable industrial metal hit a 13-year high of $3,205/Tn in October 2021, amid the supply-demand imbalance, strong physical demand, and reflation bets from institutional investors.
The lightweight metal has seen tremendous demand in recent years mainly from the renewable and automotive industries at a time global supplies declined following pandemic-led production cuts and after a military coup in Guinea sparked global worries about the supply of bauxite, the main ingredient in aluminium.
In addition, Slovak aluminium smelter Slovalco on Monday said it had cut output to about 60% of capacity because of the high cost of power and emissions allowances and a lack of government compensation.
Supply concerns over Ukraine border crisis:
Investors worry about possible supply disruption in case of a military event in the Ukraine borders or introduction of economic sanctions since Russia has been one of the world's largest exporters of aluminium.
Russia has accumulated over 120,000 troops on the Ukrainian border, with EU and U.S warning that an invasion seems imminent, with Russia denying it.
Western allies have threatened Russia with heavy trade and economic sanctions in case of an invasion of Ukraine, adding a geopolitical price premium on Aluminum prices together with other commodities such as crude oil, natural gas, wheat, coal, and other industrial metals.
Production cuts in China:
Aluminum prices have got additional support from the news coming from China where the local government in the Guangxi region next to the Vietnamese borders have applied social restriction in the aluminium-producing city of Baise with more than 3 million population amid a Covid-19 outbreak.
As a result, local producers have seen transport disruptions of the raw material and products, intensified the already tightened market, and falling inventories in the country which produces more than half the world's supply.
Inventories in Shanghai Futures Exchange (ShFE) warehouses have fallen nearly 20% to 266,906 tonnes since the start of the year, at a period of a significant reduction in aluminium production in the country to improve air quality due to the Beijing Olympics, lifting the price of the metal as well.
Important Information: This communication is marketing material. The views and opinions contained herein are those of the author(s) on this page, and may not necessarily represent views expressed or reflected in other Exclusive Capital communications, strategies or funds. This material is intended to be for information purposes only and is not intended as promotional material in any respect. The material is not intended as an offer or solicitation for the purchase or sale of any financial instrument.