European natural gas hits a 4-month low on filled-up storages and warmer weather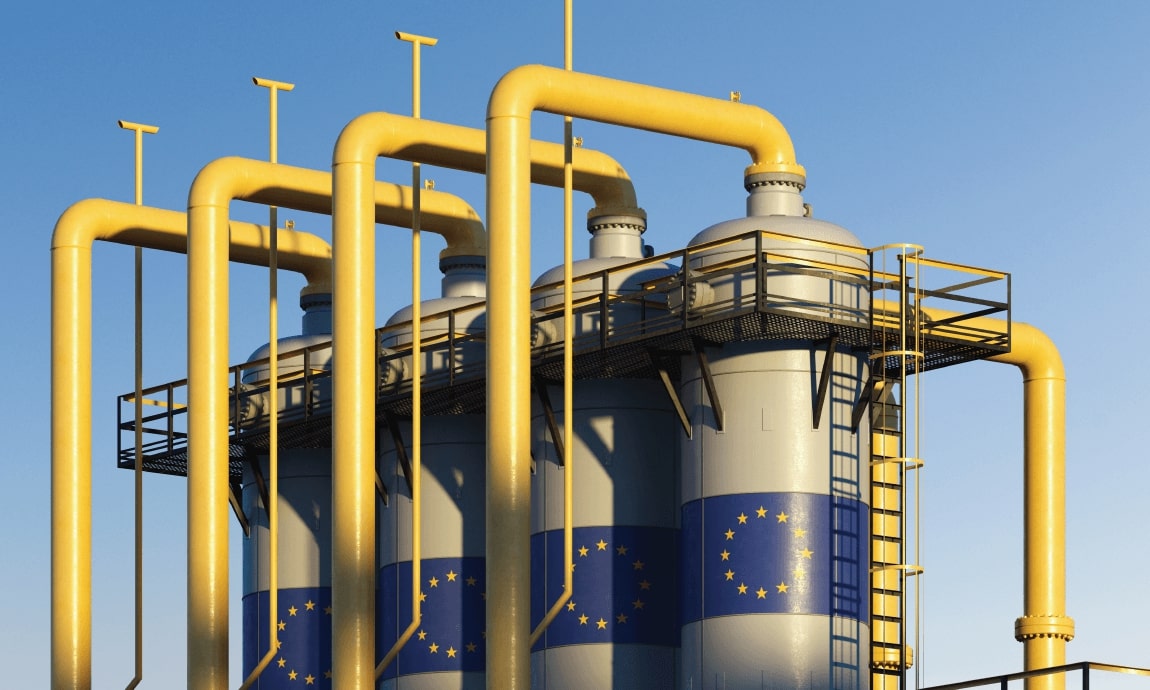 Dutch TTF (Title Transfer Facility) gas futures, the benchmark natural gas price in Europe hit a fresh 4-month low of €110 per megawatt-hour (MWh) on Wednesday morning as the initial fear of supply gas shortage in Europe for the winter eased on filled-up storages together with the plenty of LNG supplies, and warmer weather in Central Europe.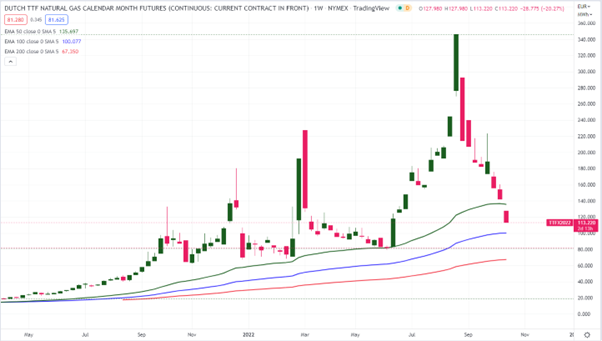 Dutch TTF futures, Weekly chart
European natural gas prices have been falling since topping near €346 MW/h on August 26 (on supply concerns after maintenance on Nord Stream 1) on expectations that Europe can make it through the wintertime despite the lower-than-normal gas supplies from Russia following late September sabotage on the undersea gas pipelines Nord Stream 1 &2 and the massive leaks under the Baltic Sea.
Supply concerns have eased lately as Norway is replacing Russia as Europe's biggest gas exporter since Russian gas only accounts for nearly 10% of Europe's imports, down from 40% before the invasion of Ukraine on February 24, 2022.
Hence, energy traders have turned bearish on the Dutch TTF since most of Europe's gas storage levels have been standing at more than 92%, exceeding their 85% target, increasing the confidence that Europe's energy systems won't have gas shortages at least for the beginning of the winter.
The discovery of leaks on Nord Stream 1 and Nord Stream 2 on September 28 has done little to the gas prices, since the lost supply had been replaced by plenty of LNG cargoes coming from the world's top gas exporters the USA, Qatar, and Norway.
On top of that, the outlook for warmer-than-normal Europe temperatures for the next few days will reduce heating demand also weighed on Dutch TTF prices. A decline in European electricity output is negative for natural gas demand from utility providers.
European Commission acts to reduce supply concerns:
With colder months closing in the Northern Hemisphere, European Commission has been doing everything needed to face this unprecedented energy crisis and to make sure every citizen in the continent can still afford to heat their homes this winter.
The European governments have been looking to shore up gas storage in a bid to ensure the security of supply this winter and bring more energy from other parts of the world and establish new gas infrastructures next year when the gas storage is expected to be depleted at mid-2023.
Europe is looking to reduce its reliance on fossil fuels in the long run and to mitigate the risk of rising energy prices again in the future.
Important Information: This communication is marketing material. The views and opinions contained herein are those of the author(s) on this page, and may not necessarily represent views expressed or reflected in other Exclusive Capital communications, strategies or funds. This material is intended to be for information purposes only and is not intended as promotional material in any respect. The material is not intended as an offer or solicitation for the purchase or sale of any financial instrument.