Natural Gas breaks above $5 on tight supplies and higher weather-driven demand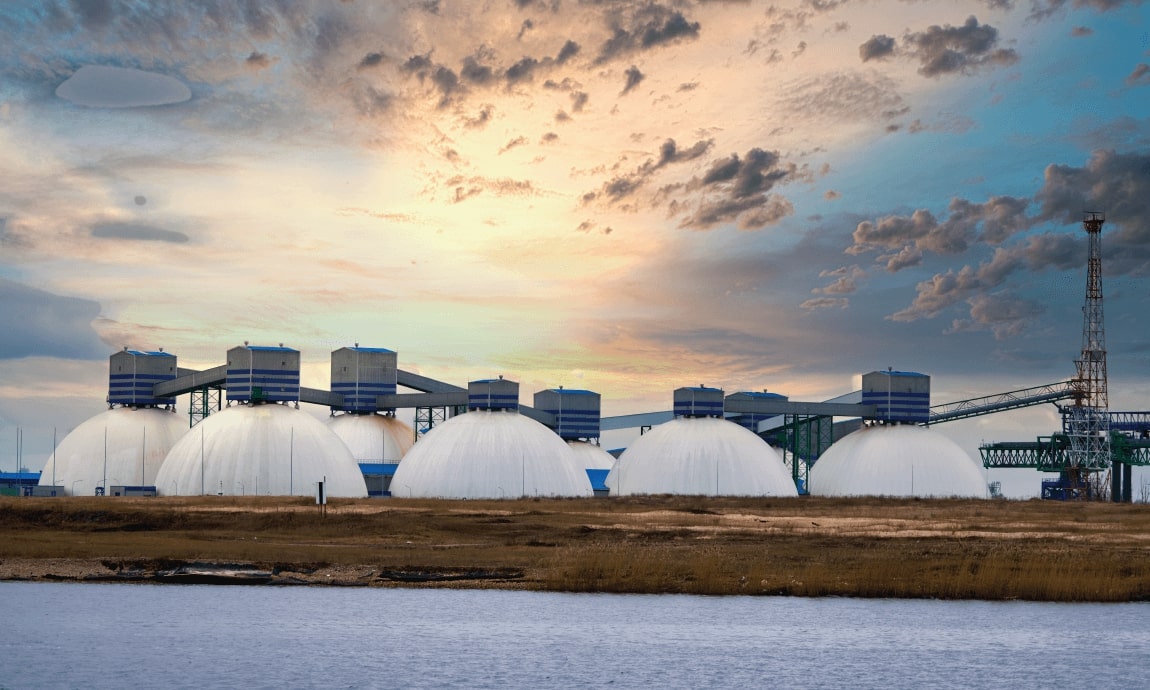 The surprisingly bullish upward trend in global natural gas prices showed no sign of subsiding at the beginning of this week, with benchmark U.S.-based Henry Hub gas contracts breaking above $5 per MMBtu, hitting the highest level since February 2014 amid tight supplies and a surging gas demand ahead of winter heating season in North Hemisphere.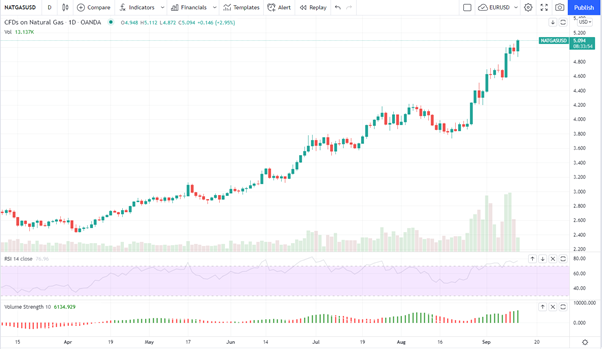 Natural gas, which is used mainly for electric power generation as well as home cooking and heating, usually receives higher demand during the winter seasons since the low temperatures boost the consumption of heating-led electricity.
Tight supplies:
Energy traders have turned bullish on Natural Gas since the beginning of the year as the global gas market remains undersupplied.
The supply levels continue to be much lower than they were at this time of the season in both 2019 and 2020, thanks to high U.S. export levels, low storage gas levels, and no production growth over the last several months.
Utilities in Europe and Asia demanded U.S. exports of liquefied natural gas (LNG) because of expected or unexpected supply constraints on both continents, and warmer-than-expected summer months.
Furthermore, Ida, a Category 4 hurricane has disrupted nearly 75% of the 1,7 Bcf per day natural gas production in the Gulf of Mexico since the end of August.
Low storage levels ahead of winter heating season:
Market participants have been very concerned lately as the weather-sensitive gas market is entering the Northern Hemisphere's winter heating season with gas inventories down nearly 20% from 2020's levels and almost 10% from the five-year average.
The current storage levels stand to near 2,900 Bcf in U.S-based Henry Hub, which is well below the year-earlier level of 3,515 Bcf and the five-year average of 3,158 Bcf.
According to data, the European gas storage inventory is also at the lowest level for this time of year than we've seen in recent history, and the time to restock for the winter is rapidly running out. This is the main reason why LNG prices in Europe hit record highs multiple times this summer, even surpassing Asian prices.
Bullish weather patterns:
Gas prices had received unexpected high cooling demand during summer months due to the warmer-than-normal temperatures around the world. Hence, an extended warm weather forecasts through much of September could add further upward pressure on prices in the weeks ahead.
Analysts at both Goldman Sachs and Morgan Stanley said in recent reports that, should the winter prove colder than average, Henry Hub prices could soar to $10 per MMBtu amid low inventory levels relative to last year and historic averages.
Important Information: This communication is marketing material. The views and opinions contained herein are those of the author(s) on this page, and may not necessarily represent views expressed or reflected in other Exclusive Capital communications, strategies or funds. This material is intended to be for information purposes only and is not intended as promotional material in any respect. The material is not intended as an offer or solicitation for the purchase or sale of any financial instrument.