A weaker dollar is supportive for the world economy and equities

Several weeks ago, I asked myself if the run in the EURUSD pair was an opportunity to go long the dollar, after the euro rallied the most over the past decade. My answer was no, because such a rally does not happen without a reason. Such a rally is a fundamental shift in the market, even if many times we don't know why.
Over the past several months I have been following 2 data sets to try to figure out what the pair might do in the future, and so far I have not been disappointed.
The first is swap liquidity data as published by the St Louis Fed. We have made reference to this data many times over the past several months.

As you can see, the swap liquidity facility has almost unwounded. Again, like I have said in previous notes, this is dollar negative.
The other set of data is the net speculative EUR positions from The Commodity Futures Trading Commission's weekly Commitments of Traders data. As you can see, net speculative positions are the highest in over a decade. In fact, they have ticked up a bit as of the last report.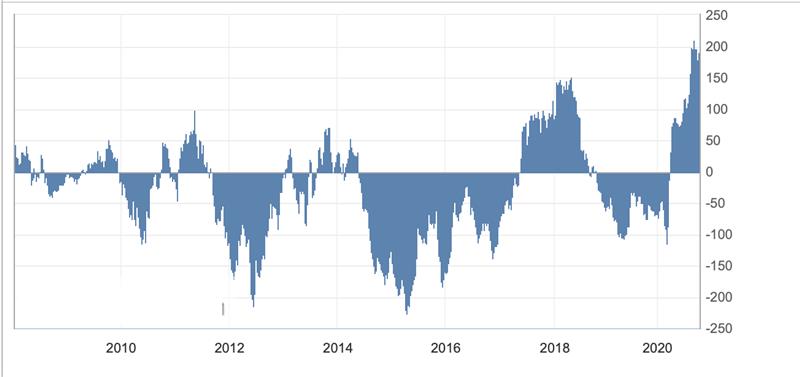 Please note that a lower dollar is supportive for the US and the World economy. In fact, as long as the dollar is falling, it is a risk on for the global economy and of course for markets, primarily equities. So until we see data to the contrary, my conclusion is that the Euro will continue to go higher vs the dollar.
Important Information: This communication is marketing material. The views and opinions contained herein are those of the author(s) on this page, and may not necessarily represent views expressed or reflected in other Exclusive Capital communications, strategies or funds. This material is intended to be for information purposes only and is not intended as promotional material in any respect. The material is not intended as an offer or solicitation for the purchase or sale of any financial instrument.