Dollar up and stocks down as Fed hikes rates by 75bps to curb inflation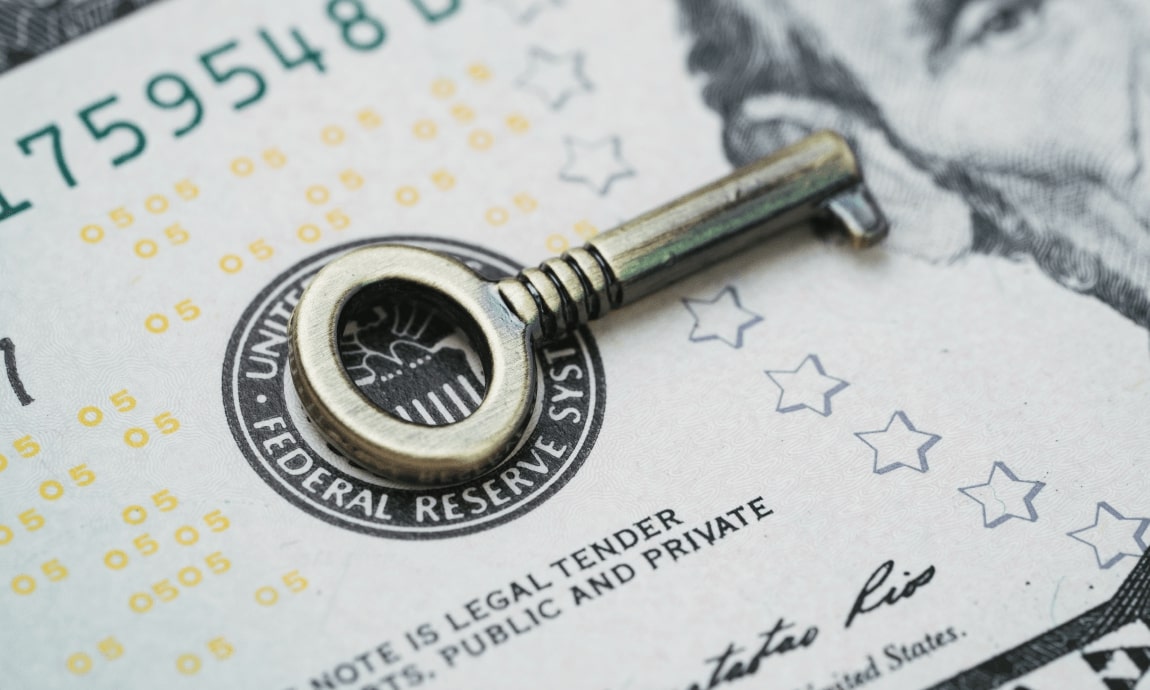 U.S dollar and bond yields climbed to weekly highs while global stocks fell sharply on Wednesday and Thursday as the U.S. Federal Reserve delivered a well-expected fourth consecutive 0.75 percentage point rate hike to a range of 3,75% to 4%, necessary to fight the 40-year record-high inflation which is running at an 8,2% annual pace in September.
Adding to the rate hike sentiment, Fed Chairman Jerome Powell signaled further rate hikes ahead and called discussions on pausing the tightening cycle "premature" as the central bank's ultimate target for increases in interest rates has gone up.
Market reaction:
Wall Street closed in deep red on Wednesday's trading session, with the Dow Jones Industrial Average dropping 505 points or 1.55% to 32,147.76, and the S&P 500 shedding 2.5% to 3,759. while the rates-sensitive Nasdaq Composite tumbled 3.36% to 10,524.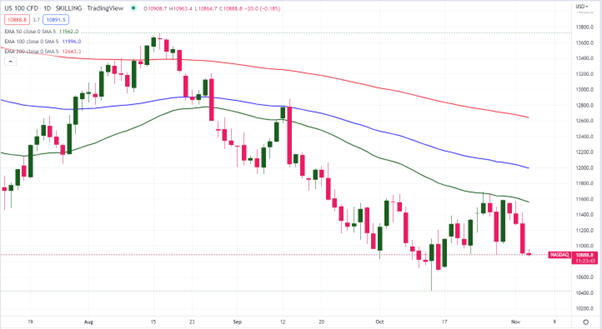 Nasdaq Composite, Daily chart
Market volatility was high yesterday as the U.S stocks reversed gains from earlier in the afternoon when traders digested the Fed statement as more dovish and hoped that rate hikes would be smaller in the future.
Unlucky for them, Fed's Chair comments that rates will continue marching higher and likely stay at a higher level than expected for longer as the Fed tames inflation, triggering a selloff across the board, with all-three U.S. indices settling at the low of the session.
A similar bearish picture in the wider Asia-Pacific region, with Hong Kong's Hang Seng index settling lower by 2.65%, mainland China's Shanghai Composite lost 0.64%, the Australian ASX was down nearly 2%, at a time Japan was closed for a public holiday.
Bond yields and the greenback rallied to weekly highs last night after Fed Chair Jerome Powell said the terminal rate will still be higher than anticipated. The DXY-dollar index jumped to near 113 level this morning, adding pressure on the other major peers such as the Euro and Pound Sterling which tumbled to weekly lows of $0,9750 and $1,1250 respectively.
The policy-sensitive U.S. 2-year Treasury yield briefly surpassed 5.1%, before retreating to nearly 4,70%, the yield on the 10-year Treasury rose as high as 4.15%, while the yield on the 30-year Treasury bond was also higher at 4.18%.
Smaller Fed hikes on the horizon?
Some analysts expect the Federal Reserve to take a more moderate path soon (i.e., a smaller 50 basis points in December) to avoid putting the U.S. economy into recession, in case the core inflation start easing in the following months.
The expectation is based on a line in the Fed statement that said, "the Committee will take into account the cumulative tightening of monetary policy, the lags with which monetary policy affects economic activity and inflation, and economic and financial developments."
Important Information: This communication is marketing material. The views and opinions contained herein are those of the author(s) on this page, and may not necessarily represent views expressed or reflected in other Exclusive Capital communications, strategies or funds. This material is intended to be for information purposes only and is not intended as promotional material in any respect. The material is not intended as an offer or solicitation for the purchase or sale of any financial instrument.