Financial markets wobble on global economic worries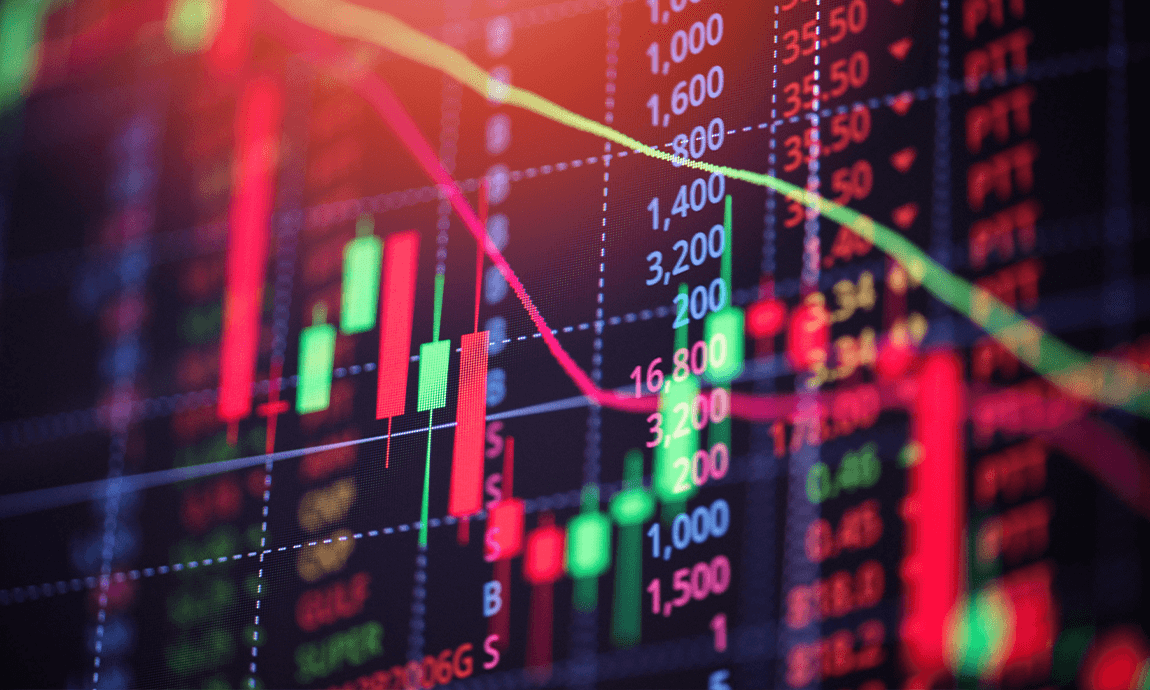 Global markets have been under pressure lately following the growing concerns about slowing global economic growth due to the continued war in Ukraine, the Covid pandemic, supply chain disruptions, surging inflation, and the aggressive interest rate hikes from central banks to counter it.
The economic-sensitive assets have been retreating from their recent all-time highs as long as talks of a recession have been accelerating during the recent weeks. The central banks will continue their aggressive path of monetary policy tightening to fight unstoppable inflation with whatever rate hikes were needed.
On Wednesday, June 15, the U.S. Federal Reserve announced a 75-basis point interest rate hike, its largest since 1994, to curb inflation which was running at a rate of 8,6% in May.
Investors believe a mild recession starting in the last months of 2022 is now more likely than not, given the rapidly slowing growth momentum, the monetary tightening, the energy and food price pressure, and the escalating geopolitical tensions.
Market reaction:
Investors moved away from risky assets last week towards havens of the U.S dollar, bonds, and gold, with S&P 500 index losing nearly 6%, it's worst week since 2020, to trade 24% below its January 2022 high and deep into a bear market.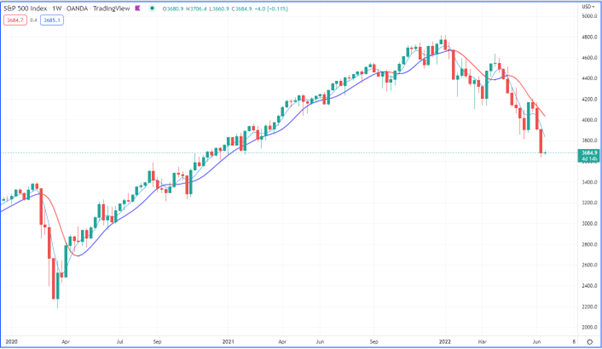 S&P 500 index, Weekly chart
The Dow Jones index finished the week with almost 5% losses and settling below the 30,000 key level or down 17% from its record highs, while the tech-heavy Nasdaq Composite also slipped 4,8% or more than 35% from its all-time highs following the ongoing sell-off in the yield and growth-sensitive tech companies.
Meanwhile, the Crypto market has been the biggest loser among the risky sectors, since it has lost over $2t in value from its record highs amid the risk aversion sentiment in the market.
Bitcoin, the larger digital coin is down over 70% from its all-time high of $69,000 in November 2021, after having fallen to as low as $18,000 during the weekend, while the second-largest coin, Ethereum touched the $880 level before bouncing above $1000 on Monday morning.
Crude oil's correction:
Crude oil prices closed in deep red on Friday, losing nearly 9% last week, their first weekly decline since last month. Brent crude lost 7% on Friday, falling to as low as $112/b before bouncing to near $114/b on Monday morning, while the WTI also tumbled 9% to $108/b before recovering above $110/b.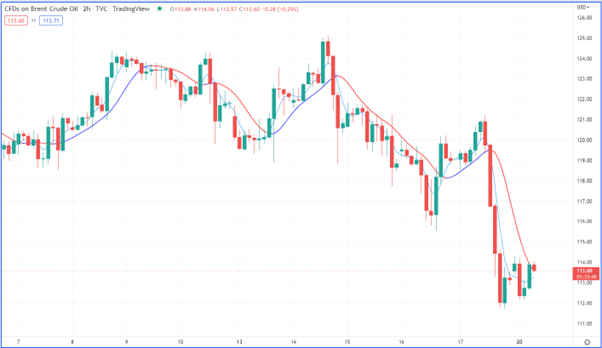 Brent crude oil, 2-hour chart
Energy traders took some profits out of the crude oil market last week on concerns that the skyrocketing oil prices will add more pressure on global economies which would ultimately reduce demand for petroleum products.
The recession-driven fuel demand worries come to offset concerns about tight supplies, a Russian oil embargo, and record-low inventories which have been supporting the oil prices to climb to multi-year highs recently or up nearly 45% in 2022.
Important Information: This communication is marketing material. The views and opinions contained herein are those of the author(s) on this page, and may not necessarily represent views expressed or reflected in other Exclusive Capital communications, strategies or funds. This material is intended to be for information purposes only and is not intended as promotional material in any respect. The material is not intended as an offer or solicitation for the purchase or sale of any financial instrument.