Markets edge lower ahead of Fed-ECB-BoE rate decisions and CPI data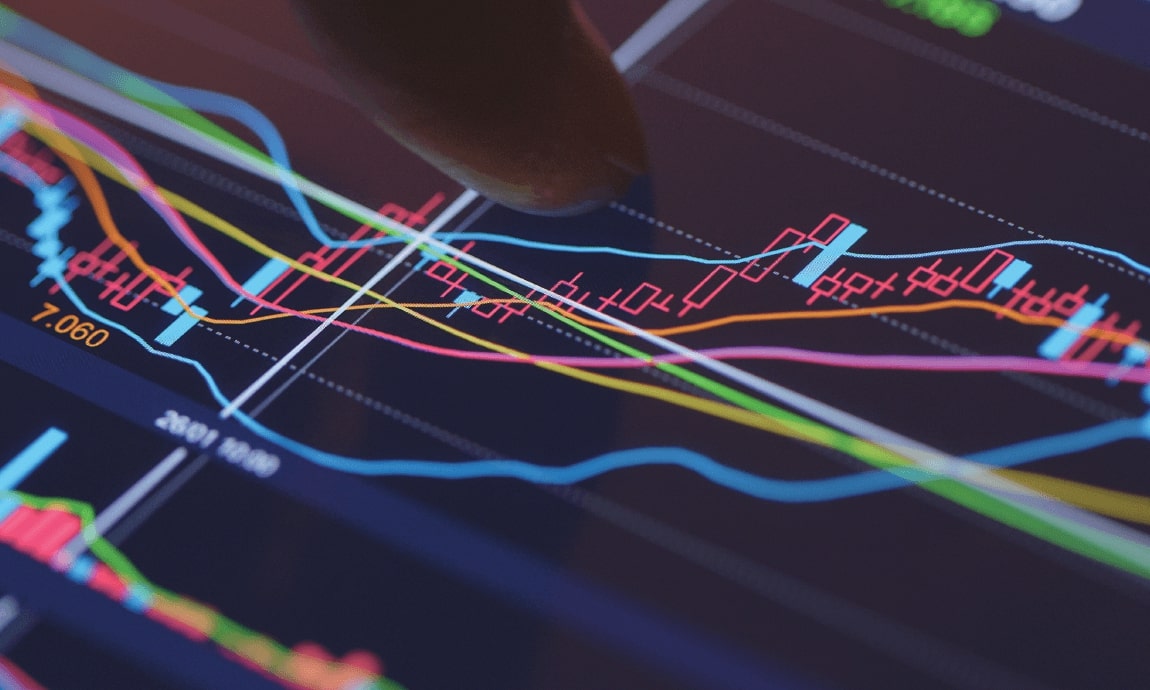 Global financial markets kick off this week on left footing ahead of a big week with investors focusing on key economic and inflation data and rate hike decisions by the world's top central banks, Federal Reserve, ECB, and BoE on their battle against record-high inflation, at a time when rising COVID-19 cases in China reduced optimism over an economic reopening.
Investors fear that the hot inflation and job readings will make the need for the global central banks to keep interest rates higher for longer in 2023, potentially leading to an economic slowdown or a recession, and pressuring financial markets and corporate revenues.
In the Asian-Pacific region, Chinese markets led the losses ending much lower on Monday's trading session, with the Hang Seng index slumping over 2%, and the mainland Chinese indices losing nearly 1% as markets feared that the relaxing of anti-COVID measures in China would result in much higher infection rates.
The three major U.S. indices settled last week with significant losses, with the Dow Jones losing 2.5%, the S&P500 falling 2.8%, and the tech-heavy Nasdaq Composing declining 3.4% as the growing global recession worries sapped appetite for risk.
Consumer Price Index:
On Tuesday, we expect the key U.S. CPI- Consumer Price Index for November to be released and provide additional signals about inflation and the Fed's rate hike policy path, with economists forecasting the annual rate of inflation to slow to 7.3% vs 7.7% in October and 8,3% in September.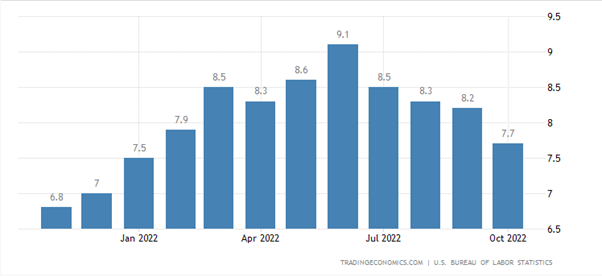 U.S. Consumer Price Index (CPI), a monthly report
The Consumer Price Index (CPI) measures the change in the price of goods and services from the perspective of the consumer, and it's a key way to measure changes in purchasing trends and inflation.
A stronger-than-expected inflation reading could stimulate more hawkish signals from the Fed, indicating much higher rate levels than anticipated ahead in 2023 and stronger dollar and bond yields, which would be some negative events for the global economic growth outlook and financial markets.
Federal Reserve's rate hike decision:
Federal Reserve policymakers will hand down their monetary policy decision and statement at the conclusion of a two-day FOMC meeting on Wednesday and is a widely expected to hike interest rates by 50 basis points, following four months of 75 bps hikes, and their eight-interest rate increase in a row, lifting Fed's Fund benchmark at 4.50% from 4%.
Fed has hiked rates by 375 bps this year so far, including four consecutive 75 bps hikes, in the fastest rate-hiking cycle since the 1980s, to curb the 40-year record high inflation.
Investors have already priced in the 50bps rate hike, and they will turn their focus on fresh clues or indications of how high rates may ultimately rise in 2023, which will be given by Tuesday's CPI reading and other economic data this month, such as jobs and wages data, retail sales, Producer Price index, and others.
Fed Chair Jerome Powell had recently indicated that it could be time to slow the pace of rate increases since they are expecting the inflation pressure to be eased next year on lower demand for goods and services, falling commodities and energy prices, and normalization on the global supply chains.
ECB and BoE rate hike decision:
Bank of England and the European Central Bank are expected to deliver 50 bps rate hikes on Thursday to fight inflation, despite the deteriorating economic outlook in both regions, and the economic impact and energy crisis from the ongoing Ukraine war.
The ECB has raised rates by 200 basis points since July to 1,50%, its fastest pace on record, to curb inflation which peaked at 10,6% in October, before retreating to 10% in November in the Eurozone.
Same story in the UK as well, with the Bank of England being ready to hike rates by 50 basis points to 3.5%, which would be the highest since 2008, to bring down the inflation which has topped at a 41-year high of 11,1% in October.
Important Information: This communication is marketing material. The views and opinions contained herein are those of the author(s) on this page, and may not necessarily represent views expressed or reflected in other Exclusive Capital communications, strategies or funds. This material is intended to be for information purposes only and is not intended as promotional material in any respect. The material is not intended as an offer or solicitation for the purchase or sale of any financial instrument.