Stocks and commodities hit hard on China Covid unrest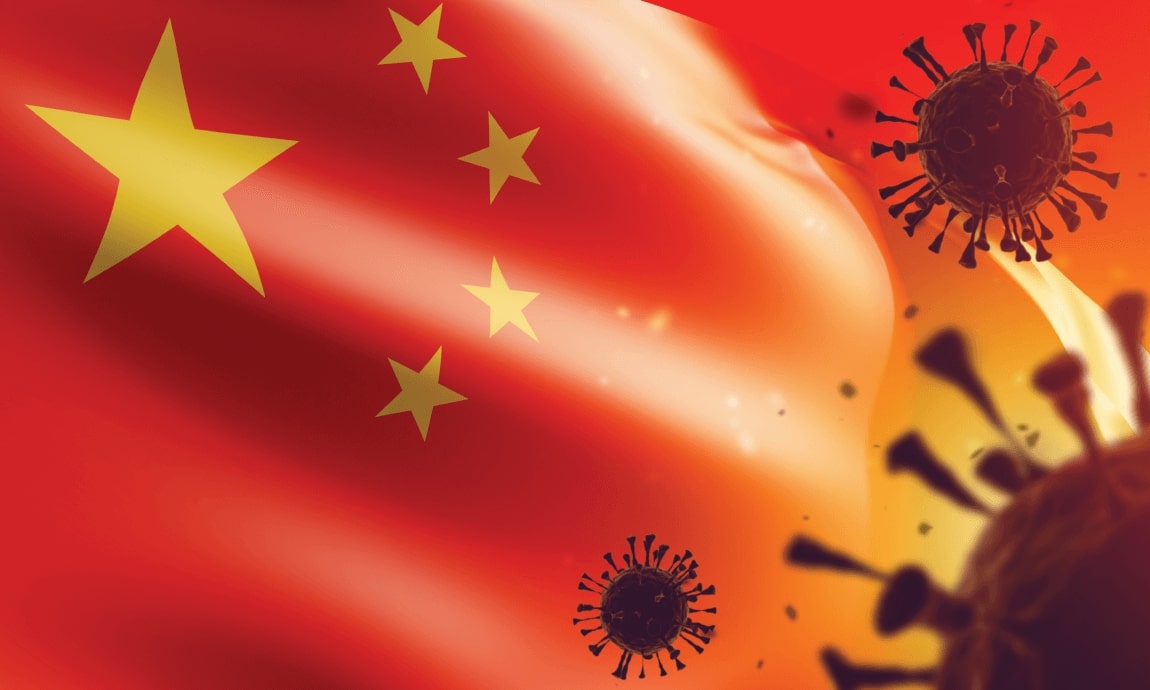 Global financial markets moved lower early Monday trading session as social turmoil over China's stringent Covid restrictions weighed on markets and risk sentiment, sending stock futures and China-sensitive commodities and currencies lower, and the haven dollar and Japanese yen higher.
An unprecedented and rare- for China- widespread public protests and police clashes broke out in major cities of China such as in the capital Beijing and the economic hubs of Shanghai, Zhengzhou, Chengdu, Wuhan, and others over the weekend, as people expressed their frustrations with China's strict zero-Covid policy.
The social frustration mounted after some local governments resumed tightening Covid controls over the last days as cases surged to yearly highs, at a time many large regions in China have been under some of the country's longest lockdowns, barred from leaving their homes for as long as 100 days.
China's case numbers have hit record highs for days, with nearly 40,000 new infections on Saturday, prompting yet more lockdowns in cities across the country, since the government has stuck with President Xi's zero-Covid policy even as much of the world has lifted most restrictions.
Market reaction:
Asian-Pacific markets led losses on the first trading day of the week following the unrest in China, with Hong Kong's Hang Seng index settling 1,60% lower, paring half of the losses after shedding 4% at the opening bell on Sunday night, while indices in mainland China also closed with 0,70% losses.
At the same time, investors got bearish on the Chinese Yuan, sending it down 1% to the 7,25 level a dollar amid negative sentiment over unrest in China over Covid restrictions.
U.S. stock futures slipped nearly 1% in the early Monday trading session following the risk-off mood, reversing some of last week's gains driven by dovish comments from Federal Reserve officials, and Minutes from the Fed's November meeting signaling that the central bank would step down its aggressive rate hike path as inflation cools.
Commodities hit hard on Covid restrictions:
China unrest weighs on commodities markets, as the return to stricter lockdowns would further squeeze demand for growth-sensitive energy, food, and industrial metals.
Chinese capital Beijing and the economic hubs are turning into ghost towns as the streets have deserted, the subway ridership plunged more than 65% over the weekend, public venues such as cinemas and shopping malls are shuttered, public parks are open at 50% capacity, decreasing the demand for gasoline and jet fuels together with the consumption of food and raw materials.
Both Brent and WTI crude prices shed more than 3% each in Asia's morning trade falling as low as $81/b and $74/b respectively to the lowest levels since December 2021, as fears on demand from China weakening came into focus.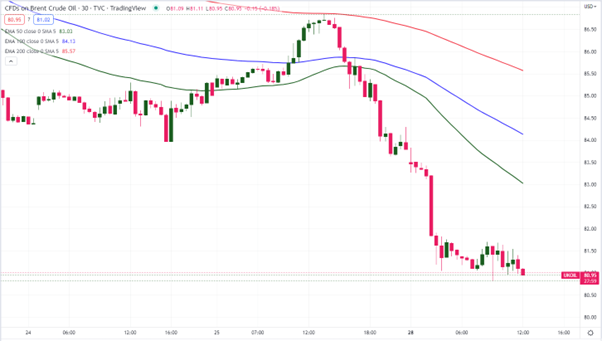 Brent crude, 30-minutes chart
China is a key driver of demand conditions in raw material and food markets, with Copper plunging 1% to $3,59/lb, Aluminium falling 1,20% to $2,360/lb, while Wheat, Corn, and Soybeans extended recent losses by another 1% to $7,65/bushel, $6,68/bushel, and $1,430/bushel respectively.
Important Information: This communication is marketing material. The views and opinions contained herein are those of the author(s) on this page, and may not necessarily represent views expressed or reflected in other Exclusive Capital communications, strategies or funds. This material is intended to be for information purposes only and is not intended as promotional material in any respect. The material is not intended as an offer or solicitation for the purchase or sale of any financial instrument.