U.S. stocks tumble 2% ahead of latest Fed minutes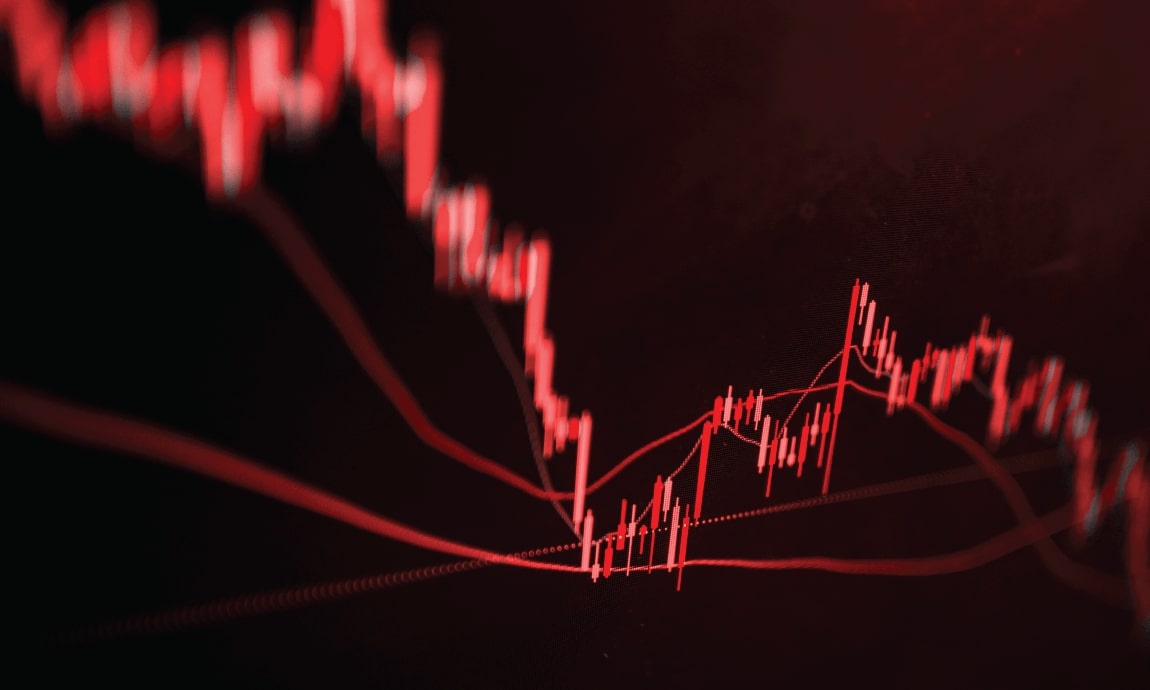 U.S. stock indices dropped over 2% on Tuesday, having their worst day of the year so far amid growing worries the Federal Reserve will keep interest rates higher for longer than previously thought, while investors await the minutes from the U.S. Federal Reserve's latest monetary policy meeting later today.
Economists and market participants worry that Federal Reserve will support more interest rate hikes than initially expected to curb 40-year record-high inflation, deteriorating the appetite for risk assets such as stocks, commodities, cryptocurrencies, and growth-sensitive currencies in favour of dollar and bond yields.
Wall Street posted its worst performance of the year so far on Tuesday, with the tech-heavy Nasdaq Composite leading losses by 2.50%, and settling at 11,492, while the Dow Jones and S&P 500 indices tumbled nearly 2%, to close at 33,129 and 3,997 respectively, as the prospect for higher rates continues to pressure market risk sentiment.
Dow Jones posted its worst downturn since Dec. 15 when it fell 2.3%, as all sectors ended lower, with consumer discretionary stocks seeing the largest decline of 3.3%.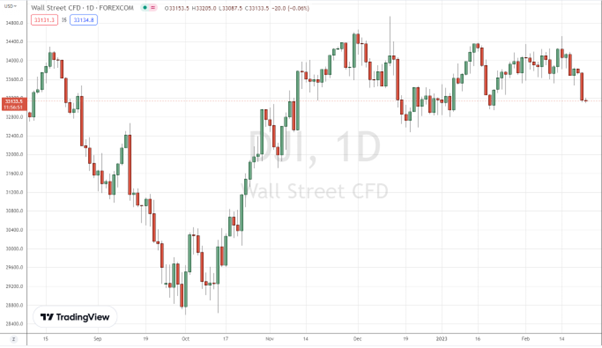 Dow Jones index, Daily chart
All eyes will be on the release of the minutes from the last Fed policy meeting, due out on Wednesday, as investors look for more insight into the central bank's rate-hiking agenda.
With the U.S. economy and labour force being more resilient on surging rates and geopolitical risks than expected, and with inflation still far from the Fed's 2% target, the dovish pivot by Fed is fading.
Money market participants have been revising upwards where they see the Fed fund rates peaking - currently at 5.35% in July and staying near those levels throughout the year.
The largely expected Fed's hawkish rhetoric has helped bond yields to reach the highest levels in three months, with the 2-year rate, which is the most sensitive to Fed policy changes hitting a high of 4.73%, while the yield on the 10-year Treasury notes climbed to 3,96%.
As a result, the U.S. dollar extended recent gains to above the 104,20 level, pressuring Euro to below the $1,0650 mark, the risk-sensitive Australian dollar fell as low as $0,6820, while Bitcoin retreated from recent highs toward the $24,000 key support level.
Important Information: This communication is marketing material. The views and opinions contained herein are those of the author(s) on this page, and may not necessarily represent views expressed or reflected in other Exclusive Capital communications, strategies or funds. This material is intended to be for information purposes only and is not intended as promotional material in any respect. The material is not intended as an offer or solicitation for the purchase or sale of any financial instrument.