Bitcoin falls to as low as $26,000 on crypto exodus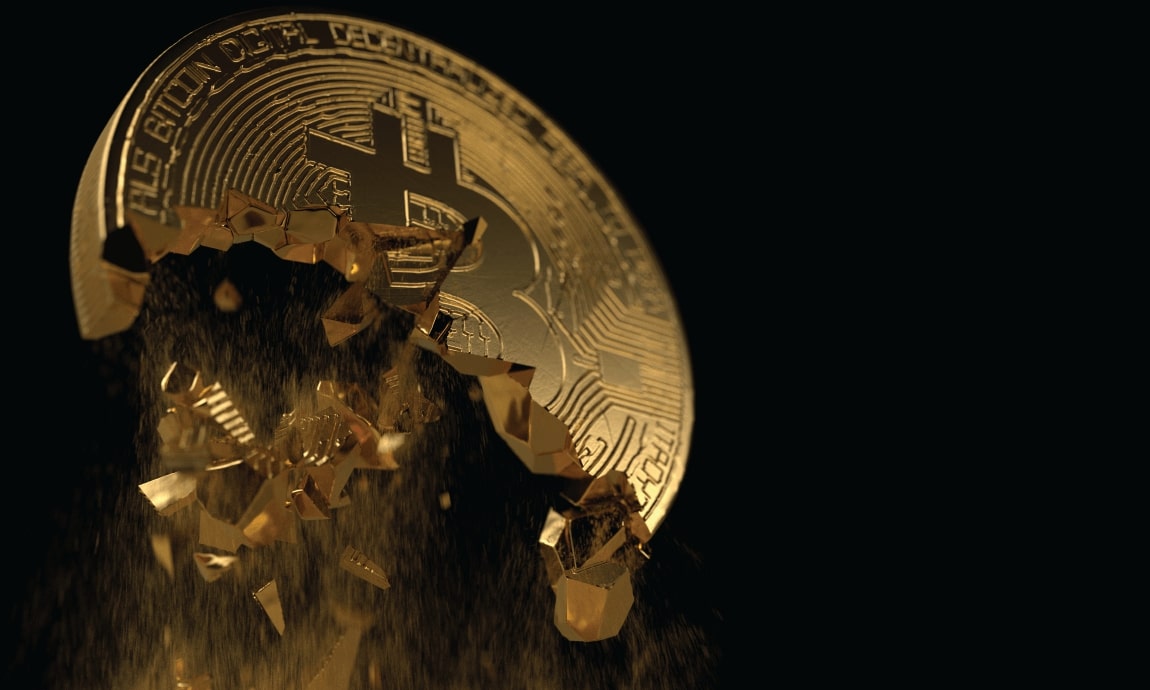 The world's largest digital currency Bitcoin briefly fell below the $26,000 level on Thursday morning as a recent sell-off in the cryptocurrency ecosystem continues amid the record-high U.S. inflation rate, the collapse of LUNA and TerraUSD stable coin, and the soaring greenback and bond yields.
The collapse of the TerraUSD stable coin and the fall of the most popular TETHER to as low as $0,95 has shaken the crypto foundation, triggering a massive "Exodus" and a general sell-off in the crypto sector, affecting some blue-chips coins such as Bitcoin, Ethereum, Solana, and Mana as well.
Stable coins were introduced to address the high price volatility of Bitcoin and other altcoins and designed to maintain a relatively stable value pegged to an underlying asset such as a fiat currency in a fixed ratio (US dollar, Euro), or a commodity (Gold, Silver), or crypto-assets, or algorithmically controlled.
Bitcoin lost nearly 12% at one point this morning to $25,500, down more than 60% from its record highs of 69,000 in November 2021, while the price of the second-largest cryptocurrency by market cap Ether was also down 17% to near $1,700 mark.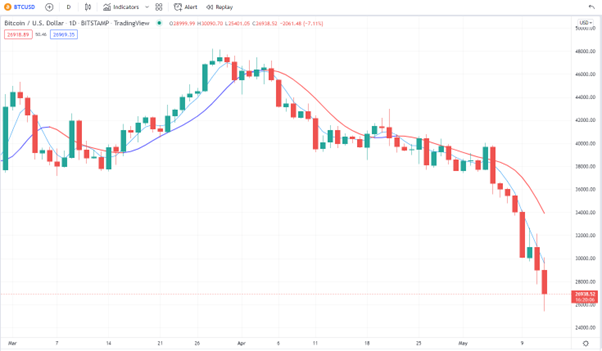 BTC/USD, Daily chart
The same bearish picture on the other major digital currencies, with Solana falling to as low as to $35 level, down 60% in only a few days and down 85% from the record high of $256 in November 2021, while Metaverse-led coins MANA and SAND also plunged to levels haven't seen since their price rally in October 2021 of $0,65 and $1 respectively, down 90% from November's all-time highs.
The Crypto market has been under pressure since the beginning of April, with Bitcoin falling from the levels of $50,000 to today's $26,000 range, down almost 50%, mainly due to the aggressive interest rate hikes by the Federal Reserve to fight the soaring inflation which stood at a 40-year record of 8,3% in April.
TERRA and LUNA projects collapse:
The recent crypto sell-off was triggered after the TerraUSD (UST), a so-called decentralized, algorithmic stable coin that's meant to maintain a $1 peg or a 1-to-1 peg with the U.S. dollar using a combination of digital assets such as bitcoin and applying a complex system of minting and burning tokens to adjust supply and stabilize prices, plunged to as low as 0,25 cents on Wednesday morning, before recovering above 0,60 range on Thursday morning.
The Terra creator will try to return UST to its $1 peg by increasing the rate at which new Luna tokens are minted per day, allowing the supply of its stable coin to be eaten up, a move it hopes will boost the price towards $1.
As a result, the collapse in Terra stable coin caused the wipe-out of the value of the sister token LUNA in only a few days, devaluated-diluted by a higher supply of the token as we mentioned above. The LUNA/USD, which posted a record-high of $120 on April 05, 2022, dropped to as low as $0,15! on Thursday morning, down nearly 99% in the past days.
Important Information: This communication is marketing material. The views and opinions contained herein are those of the author(s) on this page, and may not necessarily represent views expressed or reflected in other Exclusive Capital communications, strategies or funds. This material is intended to be for information purposes only and is not intended as promotional material in any respect. The material is not intended as an offer or solicitation for the purchase or sale of any financial instrument.