Bitcoin plunges 5% to $22,300 after Silvergate Capital fallout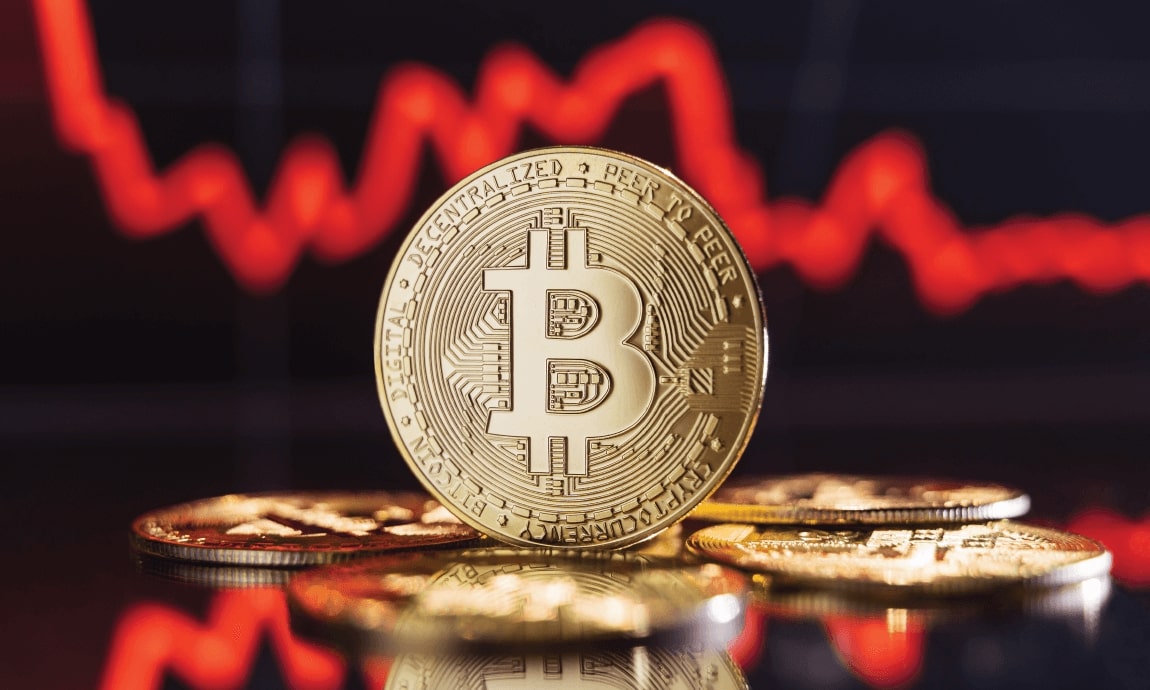 The two largest digital currencies Bitcoin and Ethereum plunged by nearly 5% to as low as $22,300 and $1,570 respectively on Friday morning, posting their largest one-day percentage loss since early February, as crypto investors fear that a possible collapse of the cryptocurrency bank Silvergate Capital could prove costly for the rest of the industry after delaying its annual report.
Bitcoin's market cap was last at $433B or 47% of the total cryptocurrency market cap this morning, while Ethereum's market cap totalled $191B or 18% of the total cryptocurrency market value.
The sell-off across the crypto board started after Silvergate Capital announced on March 1 that it would postpone the filing of its annual 10-K financial report, which has many fearing the cryptocurrency bank may be on the brink of a bankruptcy filing.
A 10-K report is a document required by the Securities and Exchange Commission that provides a comprehensive overview of a company's business and financial condition. The crypto bank stated that it would need an additional two weeks to complete the report for the 2022 fiscal year.
California-based Silvergate delayed its annual report and said it had sold additional debt securities - investments that can include bonds and notes - to repay debts this year and was evaluating the impact of these events on "its ability to continue as a going concern."
Since the news of the late 10-K filing on March 1, Silvergate's stock price has fallen a massive 57% to a record low of $5.72. The stock is now down over 97% since its all-time high of $219, hit on November 14, 2021.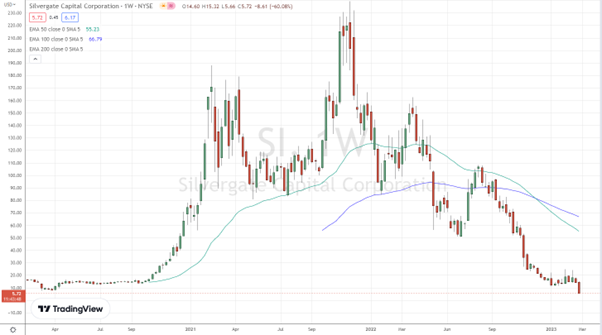 Silvergate Capital share, Weekly chart
Silvergate, a major player in the crypto ecosystem, is a fintech firm that provides financial infrastructure solutions and services to some of the largest cryptocurrency exchanges, institutional investors, and mining companies in the world.
It also offers a 24/7 payments platform, named Silvergate Exchange Network, which has reportedly processed over $1 trillion in transactions since 2017.
Concerns about Silvergate's potential financial troubles first surfaced in Q4 2022, when it reported a net loss of $1 billion as a result of the shock collapse of FTX in November. The exact dealings between Silvergate and FTX have been subject to a probe by the United States Department of Justice recently, although there's been no accusation of wrongdoing at this point.
Despite many firms recently claiming not to have exposure to Silvergate, the bank still processed over $3.8 billion in customer deposits in Q4 2022. This was a steep fall from $11.9 billion in Q3 2022, according to Silvergate.
The firm also provides a stablecoin infrastructure platform, digital asset custody management, and collateralized lending services to several institutional players in the cryptocurrency industry.
Despite the large network effects, the late 10-K filing appears to have had a consequential effect on its partnerships.
Within 24 hours of the late 10-K filing, Coinbase, Circle, Bitstamp, Galaxy Digital, and Paxos confirmed that they will scale back their partnerships with the cryptocurrency bank in some capacity.
Important Information: This communication is marketing material. The views and opinions contained herein are those of the author(s) on this page, and may not necessarily represent views expressed or reflected in other Exclusive Capital communications, strategies or funds. This material is intended to be for information purposes only and is not intended as promotional material in any respect. The material is not intended as an offer or solicitation for the purchase or sale of any financial instrument.