Bitcoin rallies 15% on Russian financial sanctions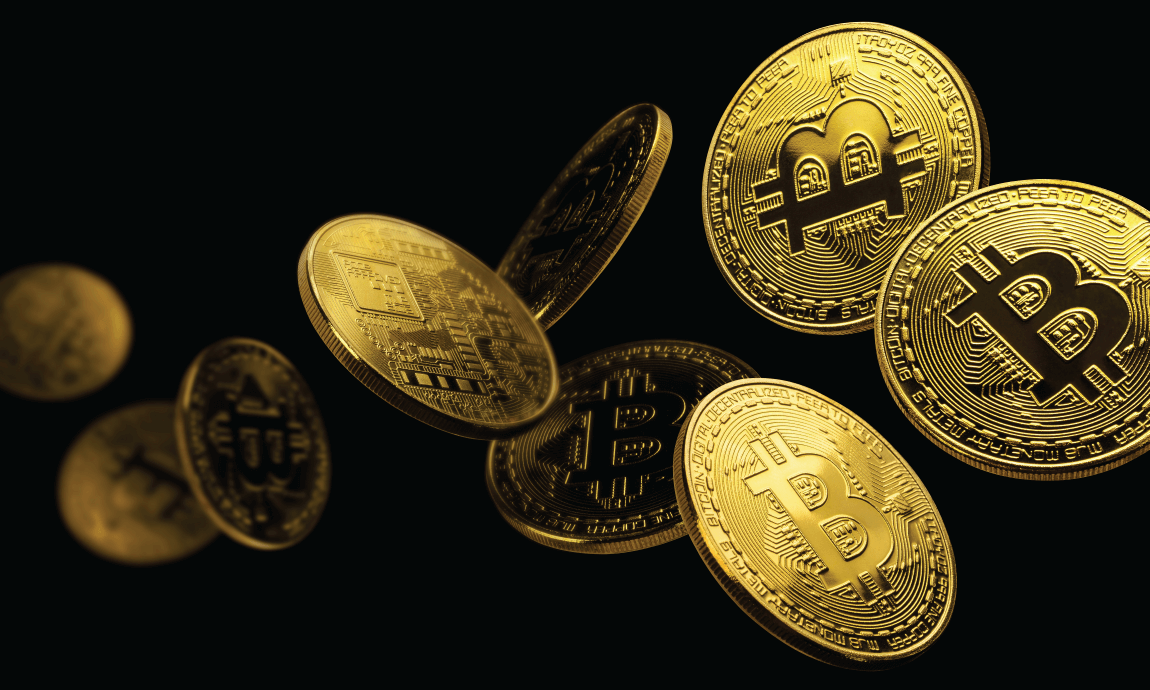 Bitcoin soared as much as 15% to $44,000 on Monday, posting its largest single-day increase in a year, following the news that the U.S Treasury Department together with Western allies imposed historic sanctions on Russian institutions, including blocking certain banks from the SWIFT international payments system, in response to the country's invasion of Ukraine.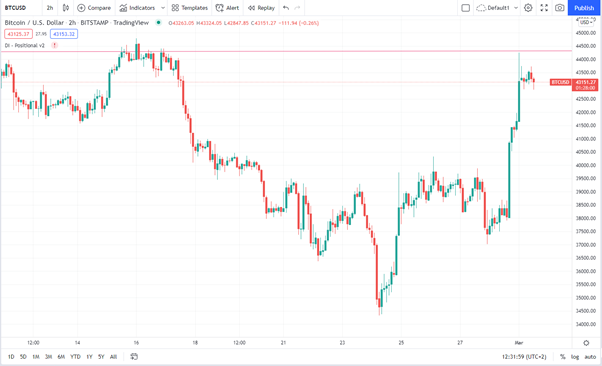 Bitcoin/U.S. Dollar, 2-hour chart
Biden's administration prohibited Americans from doing business with the Russian central bank and restricted Russian assets within the U.S, at a time Western allies agreed to remove certain Russian banks from Swift, the interbank messaging system, and to prevent Russia's central bank from deploying its international reserves in ways that may undermine sanctions.
Ethereum, the second-largest crypto by market cap, rose to as high as $3,000, bouncing by almost 30% from previews week's lows of $2,300, following a similar uptrend pattern with Bitcoin.
Russians and Ukrainians buy Bitcoin for safety:
The Russian ruble dropped to as low as 120 per dollar or down 30% on Monday morning, posting an all-time low after Western nations announced fresh sanctions to punish Russia for its invasion of Ukraine, before retreating below parity level on Tuesday morning after the central bank hiked interest rates to an unprecedented 20%.
The ongoing devaluation of the Russian and Ukrainian currencies have persuaded locals to search for alternatives to transfer their value, turning to the borderless and censorship-resistant cryptocurrency sector for safety and to get their money out of the country, avoiding financial sanctions.
As a result, transactions on centralized bitcoin exchanges in both the Russian ruble and the Ukrainian hryvnia surged to their highest levels in months, with Bitcoin trading denominated in the Russian rouble rising 259% from a day earlier to 1.3 billion rouble ($13.1 million) when the invasion began on Thursday.
On top of the above, a significant amount of money flew to the largest stablecoins-which are pegged to traditional assets such as the U.S. dollars-such as Tether, which saw its market capitalization climb to an all-time high of nearly $80 billion, while gold-backed cryptocurrency PAX Gold added nearly $100 million to its market cap in two days.
Russian oligarchs turn to cryptos:
Russian oligarchs are turning to digital currencies since the decentralized blockchains, and crypto transactions are not controlled by any government or affected by any war.
To avoid the Western financial sanctions, oligarchs could move some or most of their money into largely anonymous wallets on decentralised platforms that can be accessed from anywhere.
Crypto donations to Ukraine:
The Ukraine government has raised more than $10 million in cryptocurrency donations as of Sunday, according to blockchain analytics firm Elliptic, turning to an unlikely crowdfunding method to help it get through a brutal invasion from Russia.
The official Twitter account of the Ukrainian government on Saturday posted addresses for two crypto wallets, one accepting only bitcoin and the other taking ether and tether, a token that tracks the value of the U.S. dollar.
Ukrainian war deters monetary policies
Cryptos have also got an additional boost lately as investors believe that the Federal Reserve will hike rates by 25 basis points at its March meeting, as the Russian invasion and the probability for a global economic slowdown has put an end to speculation that the Fed will hike by 50 basis points.
Markets also believe that the Ukraine-Russia war will discourage the European Central Bank from any strong tightening moves as well despite the surging energy and food prices.
Important Information: This communication is marketing material. The views and opinions contained herein are those of the author(s) on this page, and may not necessarily represent views expressed or reflected in other Exclusive Capital communications, strategies or funds. This material is intended to be for information purposes only and is not intended as promotional material in any respect. The material is not intended as an offer or solicitation for the purchase or sale of any financial instrument.