Crypto selloff drama continues as Binance pulls out of a deal to buy FTX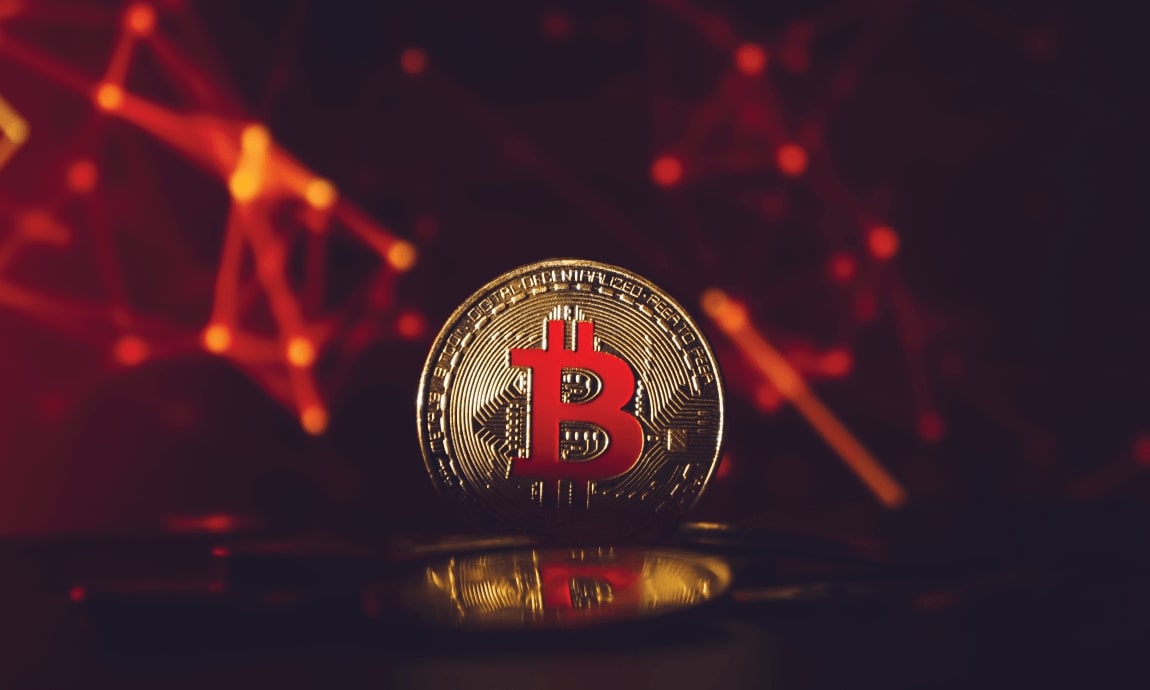 The crypto market drama continues with Bitcoin hitting a fresh two-year low of $15,600 on Thursday morning, and the broader crypto ecosystem in freefall to multi-year lows, after the world's largest crypto exchange Binance announced that it had walked away from a bailout for the bankrupted rival crypto exchange FTX after corporate due diligence.
Binance CEO Changpeng Zhao pulled out the company of a non-binding deal to acquire the world's third-largest crypto exchange FTX, on concerns about corporate due diligence, reports that FTX abused customer funds, and an investigation from the U.S regulators.
The failure of the Binance-FXT bailout deal increased the prospects of a bankruptcy of the FXT empire, triggering a fresh selloff across the crypto market, while at the same time, it spurred forcing selling pressure from the numerous "margin calls" among the "exposed" investors who had opened positions in the highly volatile cryptocurrencies with leverage.
Market sentiment also has turned sour to crypto markets, as the new FTX crisis is coming to add on a slew of high-profile bankruptcies this year, including the Luna token, and Celsius, which wiped out billions of funds in the crypto ecosystem, together with numerous hacks and the rising interest rates by the global central banks.
Market reaction:
Bitcoin, the world's largest cryptocurrency tumbled over 10% this morning, falling as low as $15,600, its weakest level since mid-2020, before rebounding to near $17,000 during the European trading session. Bitcoin has lost nearly $6,000 or down 20% since hitting Saturday's highs of $21,500.
A similar picture on Ethereum, the world's second-largest coin after Bitcoin, slumped nearly 12% to as low as $1,070 last night, recording its weakest level since mid-July 2022, before bouncing to near $1,200 later the day.
FTT, FTX's native token has almost wiped out, falling below $2 last night, down nearly 92% since the weekend's highs of $25, and almost 97% lower from its record highs of $85 touched in early September 2021.
Solana hit the most:
Yet, among the largest crypto coins, Solana hit the most compared to its competitors, slumping 40% over the last 24 hours to as low as $12 before rebounding to nearly $16 this morning.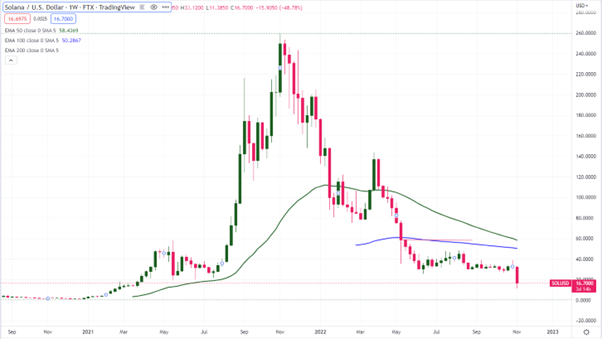 Solana/USD pair, Weekly chart
Solana was trading to around $40 on last Saturday before the appearance of the FTX drama, losing almost 70% in just 5 trading sessions, and down almost 92% from its record highs of $260 hit in early November 2021.
Sam Bankman-Fried (SBF), the founder of FTX and crypto hedge fund Alameda Research, had been an early investor in the Solana network through Alameda Research, and cryptocurrencies exposed to SBF's companies have been the hardest hit on the recent selloff.
Important Information: This communication is marketing material. The views and opinions contained herein are those of the author(s) on this page, and may not necessarily represent views expressed or reflected in other Exclusive Capital communications, strategies or funds. This material is intended to be for information purposes only and is not intended as promotional material in any respect. The material is not intended as an offer or solicitation for the purchase or sale of any financial instrument.