Russian Rouble hits a 2-year high against Euro and U.S. dollar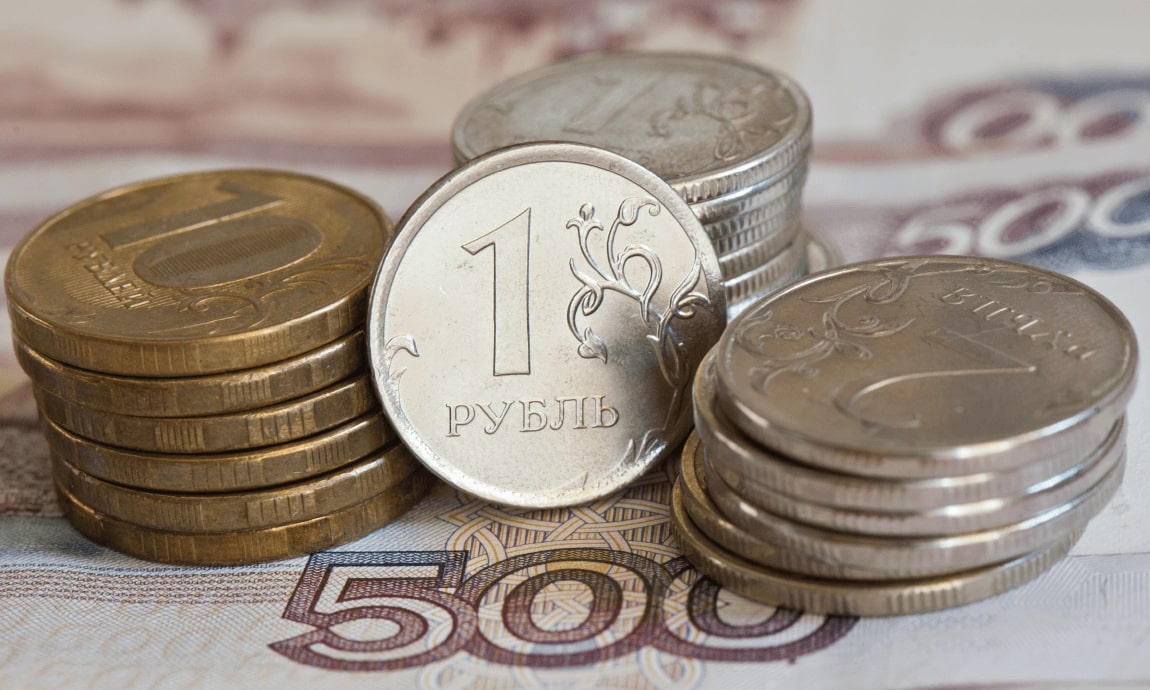 The Russian rouble was 3% stronger against the U.S dollar at 70 level, and 1% higher to Euro at 75 on Friday morning, supported by upcoming income tax payments, coupled with the Central Bank of Russia's rate cut of 3%, and at a time when Russia halted gas supplies to Poland and Bulgaria.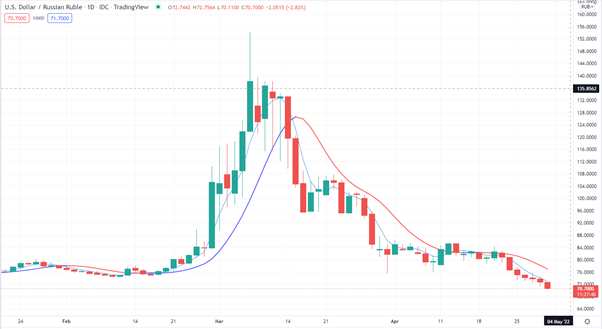 USD/RUB pair, Daily chart
The rouble has not only fully recovered to levels seen before February 24, 2022, when Russia launched a "special military operation" in Ukraine that prompted unprecedented Western sanctions, including a freeze on Russia's reserves, but it has also surpassed pre-pandemic levels.
The Russian currency was initially pressured to record lows after Putin ordered the invasion of Ukraine, but it managed to fully recover after Central Bank ordered some capital controls at a time Russian exports exceeding imports.
Income tax payments:
Rouble extends recent advances against the world's two reserve currencies, the Euro and the US dollar, reaching its highest level since early March 2020, owing to the anticipation of forthcoming month-end income tax payments, which have resulted in greater foreign currency conversion into roubles.
For example, Russian export-oriented enterprises have been selling their foreign exchange earnings to cover local liabilities that could total more than 3 trillion roubles or approx. $41 billion worth this month alone.
CBR cut rates by 3%:
In the face of increasing inflation which have surpassed the 20%, from 9% in January 2022, and 8% in 2021, the Central Bank of Russia (CBR) cut its benchmark interest rate by 300 basis points to 14% today for the second time this month, with analysts expecting it could fall to 10% by year-end.
The CBR raised its key interest rate to 20% in late February in an emergency move after the invasion of Ukraine, before trimmed it to 17% in early April.
The annual rate of inflation in Russia has jumped to the highest since 1999, as the prices of a wide range of certain products have moved sharply higher following the limited supplies after the imposition of Western sanctions.
Russia halts gas supplies to Poland and Bulgaria:
The rouble has risen in value in recent weeks because of Russian President Vladimir Putin's demand that potential buyers to deposit euros or dollars in a Swiss account at Gazprombank, which must then convert the funds into roubles, deposit the proceeds in another account owned by the foreign buyer, and send the payment in Russian currency to Gazprom.
As a result, Russia halted gas supplies to Poland and Bulgaria on Wednesday after they rejected to comply with Moscow's proposed mechanism to pay in roubles, with Putin saying that other countries refusing to pay for gas in roubles could face the same outcome.
The new rouble-focused payment strategy was created in reaction to broad Western economic sanctions imposed on Russia, with the European Commission accusing Moscow of blackmail over its payment demands.
Important Information: This communication is marketing material. The views and opinions contained herein are those of the author(s) on this page, and may not necessarily represent views expressed or reflected in other Exclusive Capital communications, strategies or funds. This material is intended to be for information purposes only and is not intended as promotional material in any respect. The material is not intended as an offer or solicitation for the purchase or sale of any financial instrument.