Sterling fluctuates after slower-than-expected fall of the UK inflation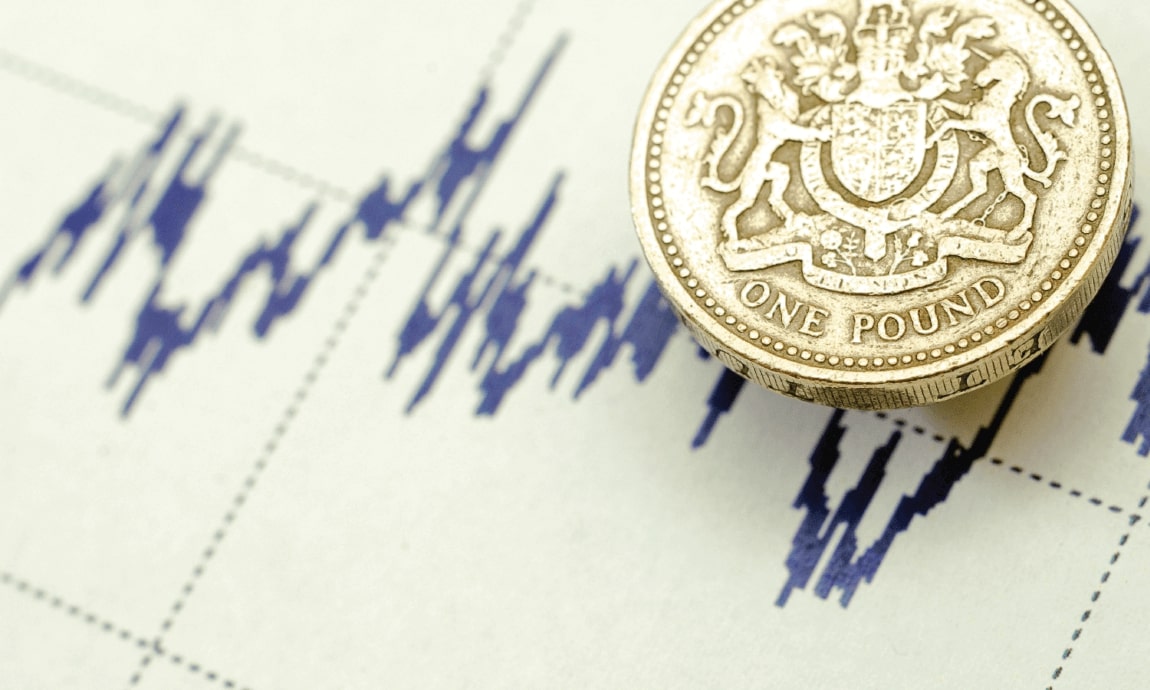 Pound Sterling initially jumped as high as $1.2470 a dollar on Wednesday morning after the release of the report that showed UK inflation fell below 10% in April, with investors cheering the fall in single digits.
However, the Sterling gave back some of those initial gains retreating to the $1.24 mark, after investors saw that headline inflation slowed less-than-expected, while Core inflation jumped higher than expected, which is adding pressure on the Bank of England for more rate hikes to curb resilient inflation.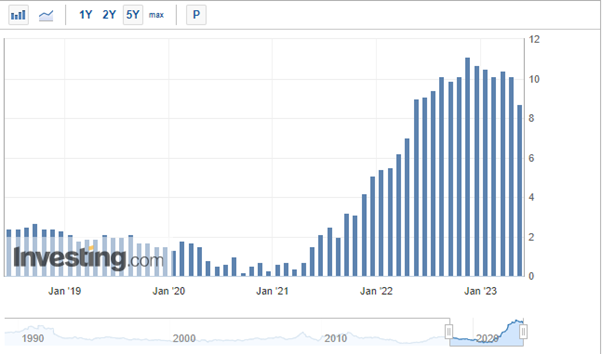 Even though U.K. headline annual inflation may have slowed in April at 8.7% from 10.1% in March, it is still above market expectations of a fall at 8.2%, unlikely what BOE governor Bailey was hoping for when he said that "inflation has turned the corner" in his remarks yesterday.
The largest contributor to the decline was housing and household services, which owes to a steep fall in natural gas and electricity prices, as per the chart below:
UK inflation had remained above 10% for eight of the past nine months, worsened by soaring energy, and food costs, and shortages in the labor market linked to Brexit, which was keeping wages high.
In the same period, inflation rates slowed to 5% in the U.S. and 6.9% in Eurozone, indicating that the UK economy is experiencing the highest rate of inflation among Group of Seven advanced economies along with Italy, despite the falling energy prices.
Sticky Core Inflation in April:
The closely watched Core inflation, which excludes volatile food, energy, alcohol, and tobacco prices, jumped up to 6.8% y-y in April 2023, its highest since March 1992, creating a big headage for the Bank of England.
BoE's rate hikes to 4.50% and the prolonged tightening cycle seem to have failed to pause the elevating Core inflation in the UK, with investors now expecting another 25bps rate hike next month to 4.75% (June 22).
Bank of England Governor Andrew Bailey is set to speak later in the day, and he could give some signals about future monetary plans to get inflation down.
However, it's not clear whether BoE can hike more, since it could create an adverse impact to the economic outlook for the UK, especially after weak PMI Manufacturing activity in April which came at 46.9 vs 47.9 market expectation.
Important Information: This communication is marketing material. The views and opinions contained herein are those of the author(s) on this page, and may not necessarily represent views expressed or reflected in other Exclusive Capital communications, strategies or funds. This material is intended to be for information purposes only and is not intended as promotional material in any respect. The material is not intended as an offer or solicitation for the purchase or sale of any financial instrument.