Turkish Lira hits an all-time high of $20 a dollar on political uncertainty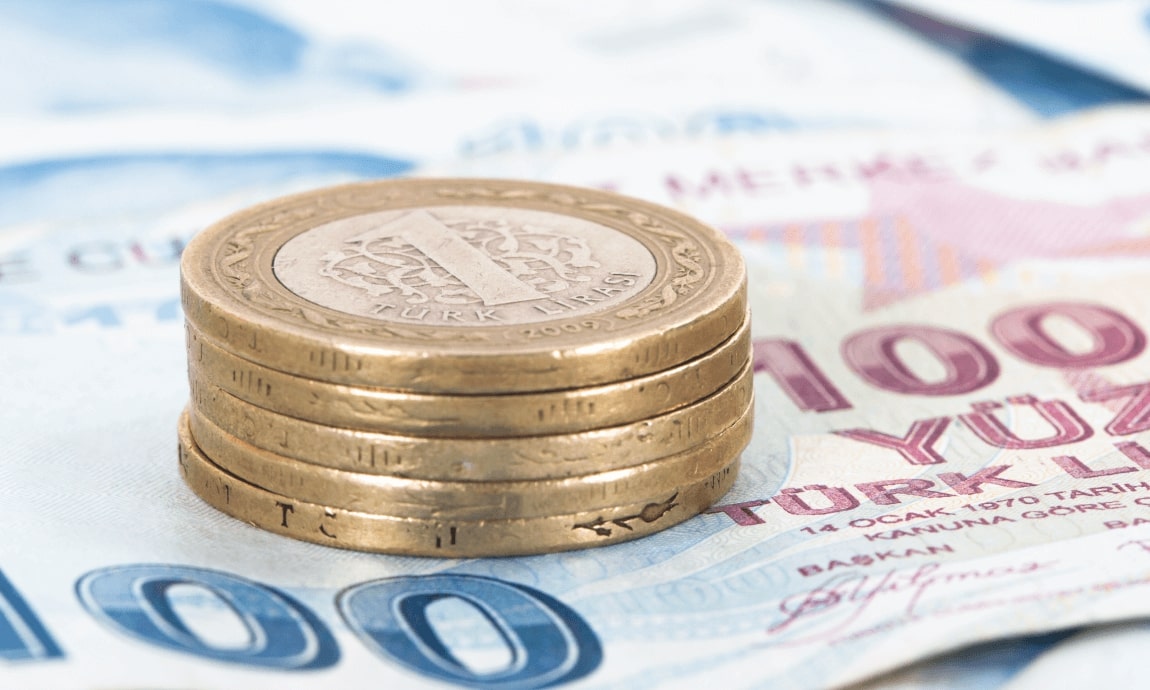 Turkish Lira hit a fresh record low of $20 a dollar on Monday morning, extending monthly losses as investors are in a cautious mood ahead of the 2nd round of the presidential election on Sunday, May, 28.
Political and economic uncertainty due to the coming elections in Turkey has weighed on the Turkish Lira, which posted a new all-time low of $20 to the U.S. dollar this morning, while it also dropped to €21.50 to the euro, slightly below the record low of €21.66 hit last week.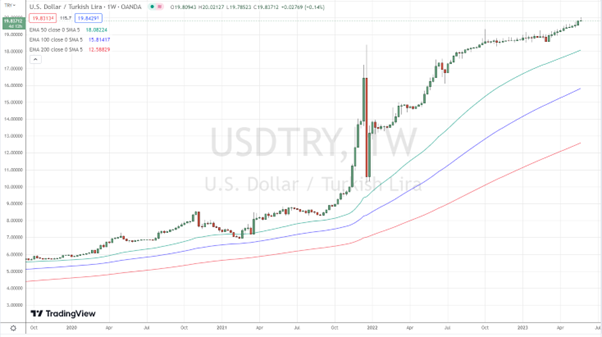 USD/TRY pair, Weekly chart
Investors have become sellers of the Lira since the beginning of 2023, with USD/TRY pair losing nearly 5% so far, on worries that President Erdogan could win another mandate in Sunday's elections.
President Erdogan had a stronger-than-expected voting victory of 49.44% in the Presidential election on the 1st round last Sunday against his major rival Kemal Kilicdaroglu, who also got 44.86% ballots, which weighed on Turkish assets.
Turkish central bankers backed by Erdogan's will, have applied unusual monetary policies to curb inflation that toped nearly 85% last year, by cutting interest rates despite elevating inflation and resulting in an over 40% Lira depreciation in 2021, and 30% in 2022.
Turkey's FX reserves have also depleted to record lows after many interventions by the authorities to stabilize the Lira's depreciation against the dollar and euro in the previous currency turmoil, coupled with a status quo of the unorthodox monetary policy.
Some local economists believe that if Erdogan is defeated by Kilicdaroglu on Sunday, Lira assets should rally on the basis that policy orthodoxy will be restored, and political uncertainty will be eased.
Important Information: This communication is marketing material. The views and opinions contained herein are those of the author(s) on this page, and may not necessarily represent views expressed or reflected in other Exclusive Capital communications, strategies or funds. This material is intended to be for information purposes only and is not intended as promotional material in any respect. The material is not intended as an offer or solicitation for the purchase or sale of any financial instrument.