U.S. dollar softens after a weaker NFP payroll report for June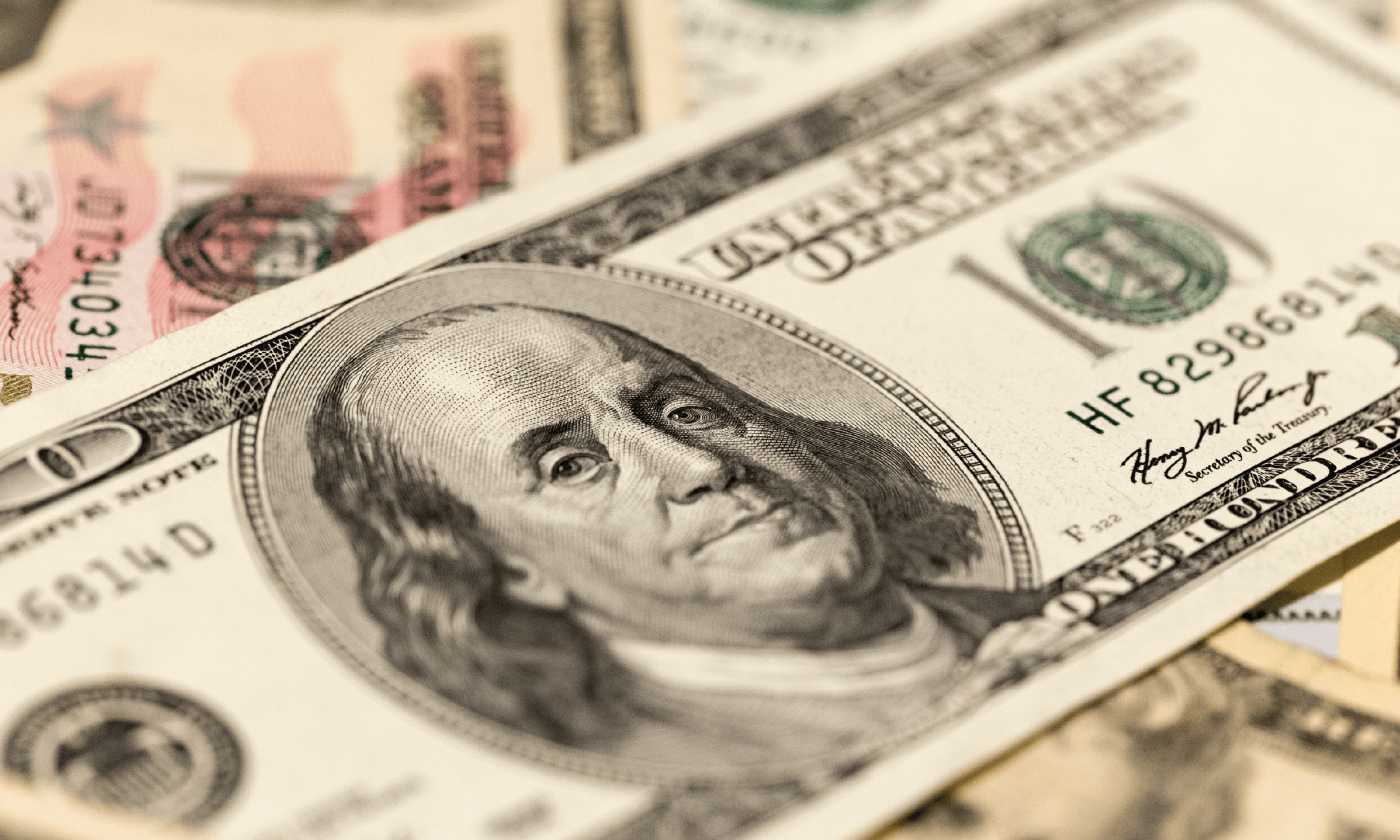 U.S. dollar-the world's reserve currency- ended last week with deep losses after the weaker U.S. NFP nonfarm payroll numbers for June generated scepticism over the trajectory of the Fed's interest rate hikes beyond July.
The U.S. Labor Department's June jobs report showed NFP payrolls increased less than expected, cooling down from May. Nonfarm payrolls rose by 209,000, while the unemployment rate came in at 3.6%. Economists polled by Dow Jones had anticipated 240,000 positions added and a similar jobless level.
However, investors were focused on other parts of the report, including stronger-than-expected wage numbers, heightened fears that the Federal Reserve may have reason to resume hiking in July, while the unemployment rate retreated from a seven-month high of 3.7% in May.
In this context, the DXY-U.S. dollar index that tracks the greenback's value against six major peers dropped as low as 102.30 on Friday before bouncing to nearly 102.50 this morning.
The falling dollar triggered a rebound to the other majors, with Euro firming at $1.0960, the Japanese Yen rising to ¥142.80, and Pound Sterling to $1.28, while it gave a boost to the dollar-denominated crude oil and gold-silver prices.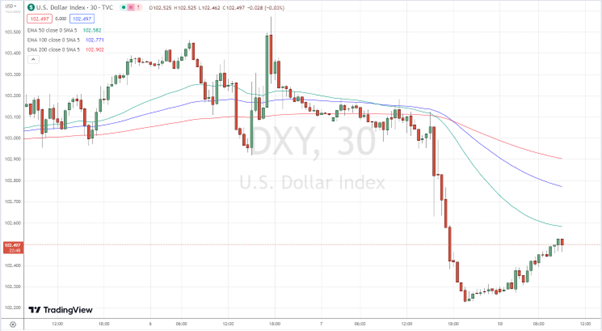 DXY-U.S. dollar index, 30-minute chart
On the bond market, the benchmark 2-year U.S. Treasury yields retreated from a 16-year peak of 5.12% hit last Thursday following strong ADP jobs report, to below 5% on Monday, after the slightly weaker-than-expected increase in June NFP payrolls failed to discourage traders from betting on more rate hikes.
Investors stick to bets- a 90% probability- the Federal Reserve would raise interest rates by 25 bps to 5.25%-5.50% range on the next FOMC policy meeting on July 25-26 to curb inflation but are becoming more sceptical of the chance for hikes beyond that, especially in September.
(https://www.cnbc.com/2023/07/07/us-treasury-yields-investors-await-junes-jobs-report.html)
Markets prepare for a slate of inflation data for June this week, starting on Wednesday with the critical readings of the CPI- consumer price index report, and on Thursday with the PPI-producer price index report, with weak inflation data might lessen the risk of yet a further move in September, and the opposite.
Rebounding Gold and Silver:
The falling dollar and bond yields helped dollar-denominated Gold and Silver to post their first weekly gains in four last week, with the price of yellow metal bouncing to nearly $1,925/oz, while the white gold rose above the key $23/oz resistance level.
Gold and Silver are sensitive to rising U.S. interest rates, which increase the opportunity cost of holding non-yielding bullion, while they are also sensitive to the surging U.S. dollar, which makes them less attractive for buyers with foreign currencies.
Important Information: This communication is marketing material. The views and opinions contained herein are those of the author(s) on this page, and may not necessarily represent views expressed or reflected in other Exclusive Capital communications, strategies or funds. This material is intended to be for information purposes only and is not intended as promotional material in any respect. The material is not intended as an offer or solicitation for the purchase or sale of any financial instrument.