Black Friday for the Black Gold amid Omicron variant uncertainty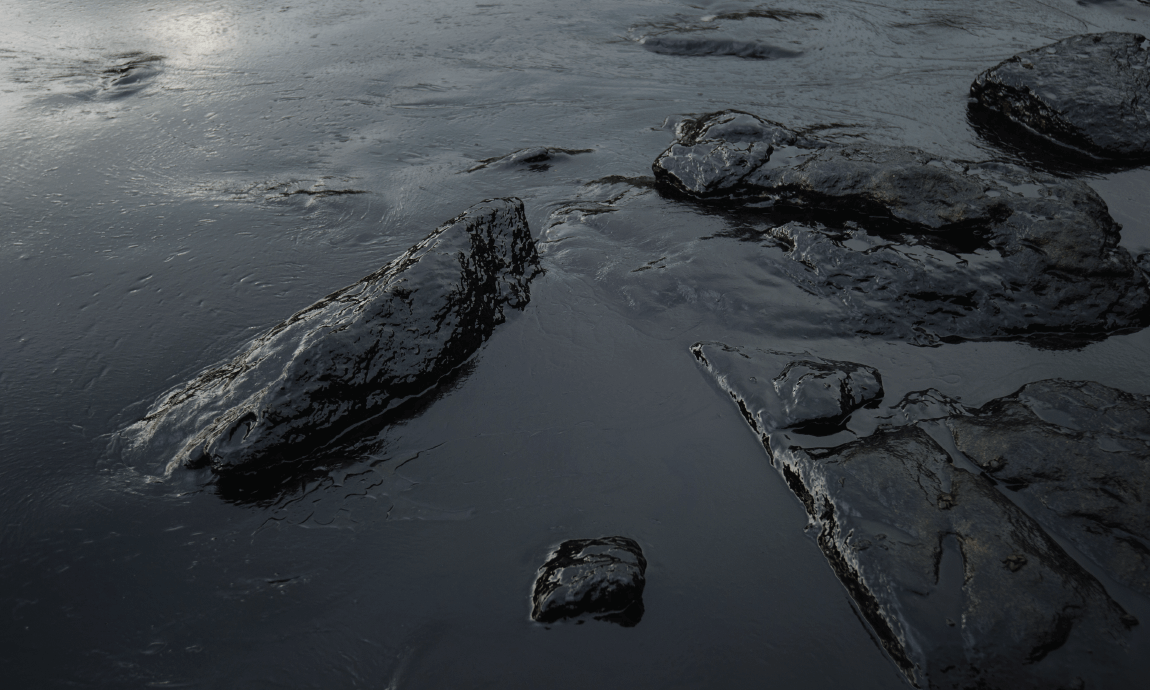 It was a Black Friday for the Black Gold since the prices of both WTI and Brent crude contracts lost nearly $10/b last Friday, plunging by over 12% amid concerns that the new highly mutated covid variant of Covid-19 with the name "Omicron" might dampen global economic growth and trigger a new wave of fuel demand destruction just as OPEC supply increases.
Crude oil carnage:
Crude oil prices experienced one of their worst trading days this year on Friday, plunging by more than 12%, with the U.S.-based WTI crude falling to as low as $67,50/b, while the international benchmark Brent crude settled below $73/b for the first time since early September.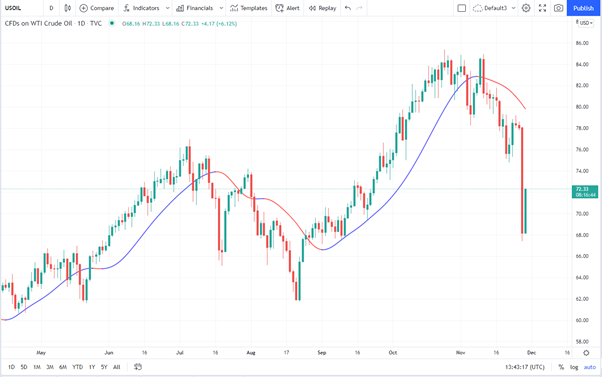 WTI crude, Daily chart
Both crude contracts registered their fifth straight week of losses for the longest weekly losing streak since March 2020, while their prices are now down nearly $15 since October highs.
Energy investors pushed lower the oil prices since the potential new lockdowns and travel restrictions could hit demand for petroleum products, especially for gasoline and jet fuels, like what happened in March 2020 when the fuel demand collapsed.
It's worth to be mentioned that the Omicron variant managed to do more what U.S. President Joe Biden couldn't with the release of 50 million barrels of oil from the SPR- Strategic Petroleum Reserve, crashing the oil prices on global demand concerns.
The SPR release was part of a coordinated global effort by major energy-consuming nations such as India, China, Japan, South Korea, and the U.K to slowdown 2021′s rapid rise in crude oil prices by releasing some million barrels from their strategic oil reserves.
The new Omicron variant caused Black Friday's plunge:
Crude oil together with the other risk-sensitive financial assets dropped sharply last Friday, following the unexpected news about the newly discovered Covid-19 variant named from the Greek letter "Omicron".
The broad market sell-off was triggered after W.H.O-World Health Organization officials on Thursday warned of a new Covid-19 variant that's been detected in South Africa, containing more than 30 mutations to the spike protein, the component of the virus that attaches to cells, than the highly contagious Delta variant (10).
Because of the high number of mutations, scientists fear it could have increased resistance to vaccines, though WHO said further investigation is needed.
Many countries have already announced tighter social and mobility measures, while some others have banned flights and travellers from six countries in Southern Africa since they have reported many cases during the weekend.
Market reaction on Omicron variant:
Omicron variant rocked the global financial markets on Friday, with the industrial Dow Jones index dropping 1,000 points, or nearly 3%, posting its worst day of the year, while the European and Asian-Pacific markets plummeted also 3%, led by energy, banks, travel, and leisure stocks.
On the flip side, investors searched for safety into traditional havens such as Treasuries, Gold, Japanese Yen, and Swiss Franc, while some others moved funds into companies that they will be the stay-at-home winners in case of renewed lockdowns such as Netflix, Peloton, Zoom Communications, and into vaccine makers Moderna, and BioNTech which jumped by more than 20%.
WTI and Brent prices rebound on Monday ahead of OPEC+ meeting:
Crude oil prices rebounded on Monday, with WTI and Brent's contracts spiking as much as 6% to $71/b and $76/b respectively, recovering more than half of Friday's steep losses.
The rebound was due to the belief that the Omicron variant is unlikely to be more malicious and that the existing vaccines will most likely continue to be effective in preventing hospitalizations and deaths.
Many energy traders believe that Friday's sell-off was exaggerated, focusing on the coming OPEC+ meeting on December 02, where the group will decide on production policy for January.
At present, the alliance, known as OPEC+, has been returning 400,000 barrels per day to the market each month as it unwinds the historic production cuts it implemented in April 2020 as the pandemic sapped demand for petroleum products.
Important Information: This communication is marketing material. The views and opinions contained herein are those of the author(s) on this page, and may not necessarily represent views expressed or reflected in other Exclusive Capital communications, strategies or funds. This material is intended to be for information purposes only and is not intended as promotional material in any respect. The material is not intended as an offer or solicitation for the purchase or sale of any financial instrument.