Energy prices retreat and stocks rally as Ukraine crisis eased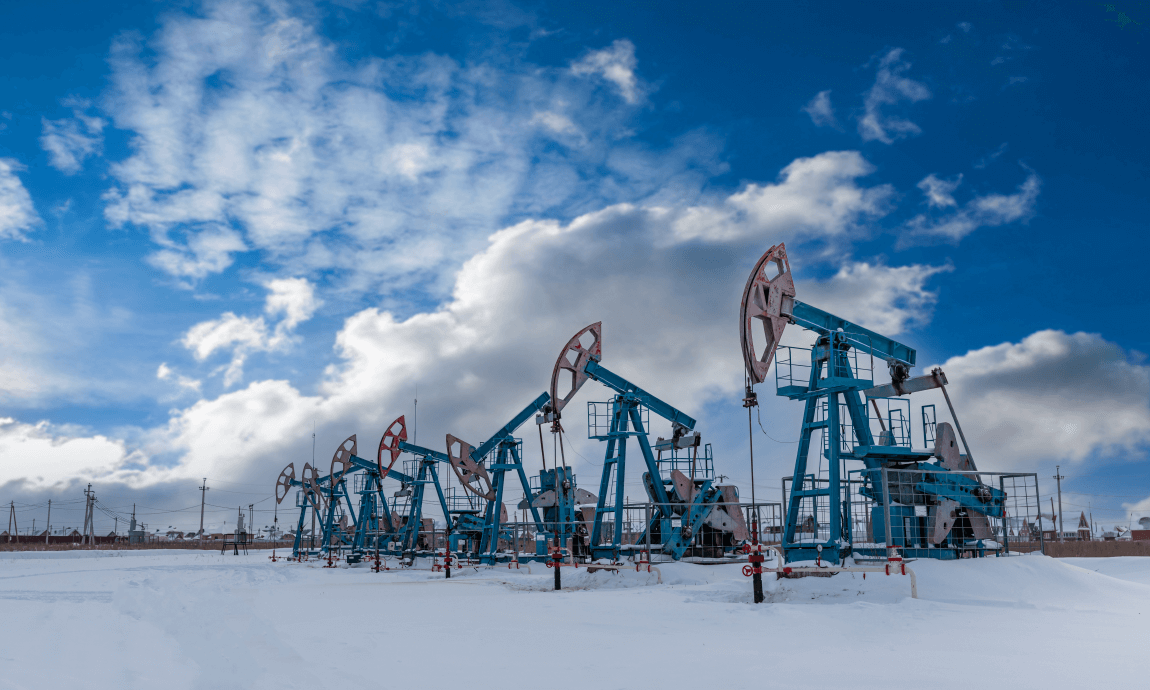 Crude oil prices fell from seven-year highs after Russia said on Tuesday morning that it has begun withdrawing some of its forces from Ukraine's borders, a significant sign of de-escalation that is removing some geopolitical risk from the global financial market.
According to Russian news agency Interfax, the Russian Defense Ministry spokesman Igor Konashenkov said that the units of the Southern and Western Military Districts, which have accomplished their missions, are boarding trains and trucks and will head for their garrisons later today, while some units will join military convoys and will perform self-propelled marches.
Crude oil is down 3% but stays above $90/b
Following the de-escalation of tensions between oil-major producer Russia and Ukraine, Brent crude fell to as low as $92/b, down $6/b from its multi-year high of $97/b set on Friday afternoon following reports of an "imminent" Russian invasion to Ukraine, while the U.S-based WTI crude dropped to $91/b, down 5% from Friday's highs.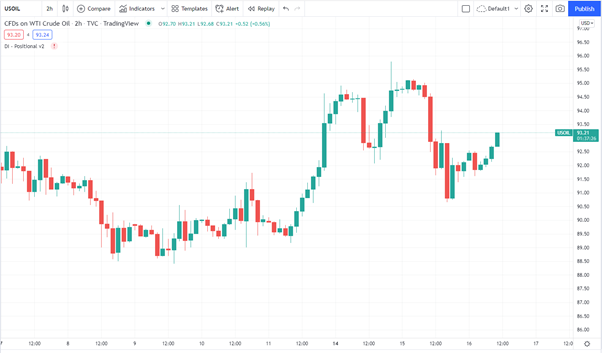 WTI crude oil, 2-hour chart
On Wednesday morning, however, both Brent and WTI prices recovered some of their losses, gaining 1% as energy markets remain concerned about geopolitical concerns in Ukraine and the Middle East, dropping global oil stockpiles, soaring fuel demand following the pandemic, and tough supply growth.
Gas prices in Europe have dropped to a three-month low:
On hopes that the de-escalation would boost Russian gas supplies to thirsty-for-gas Europe, lead to the approval of Russian-owned Nord Stream 2 gas pipeline, and fill the continent's empty gas storages, the European natural gas index Dutch TTF fell more than 2% today to €65/MWh, its lowest level since mid-November 2021.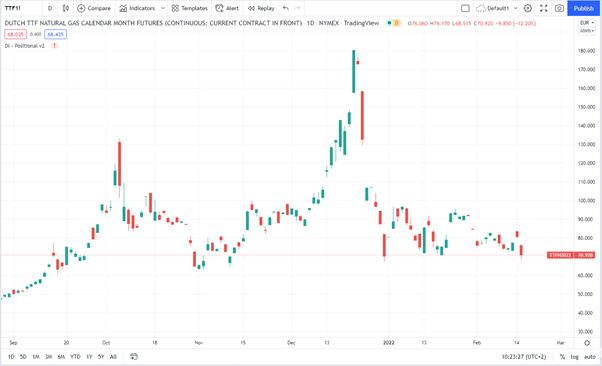 Dutch TTF Natural Gas Futures, Daily chart
As a result, TTF gas prices in the Netherlands are about 60% lower than their all-time high of €180/MWh set at the height of the Ukraine turmoil in late December 2021.
Market reaction:
Investors cheered on the news of the withdrawal, with most of the global equity markets rebounding strongly from their monthly lows as geopolitical tensions eased.
Dow Jones gained more than 400 points or 1,2% up led by airline and travels stocks, while the tech-heavy Nasdaq Composite rose the most of 2,5%, recovering some of last week's losses following the hawkish stance of the Federal Reserve.
On the opposite side, traders moved away from the Ukraine-crisis winner's safe-haven metals, with Gold losing 1% to $1,850/oz, Silver down 2,5% to $23,30, Palladium falling 5% to $2,240/oz, and Platinum down 1% to $1017/oz.
Finally, the de-escalation news pressured the prices of grains as well since Russia and Ukraine account together with 30% of global grain exports.
Important Information: This communication is marketing material. The views and opinions contained herein are those of the author(s) on this page, and may not necessarily represent views expressed or reflected in other Exclusive Capital communications, strategies or funds. This material is intended to be for information purposes only and is not intended as promotional material in any respect. The material is not intended as an offer or solicitation for the purchase or sale of any financial instrument.