LNG arbitrage as European gas prices hit fresh records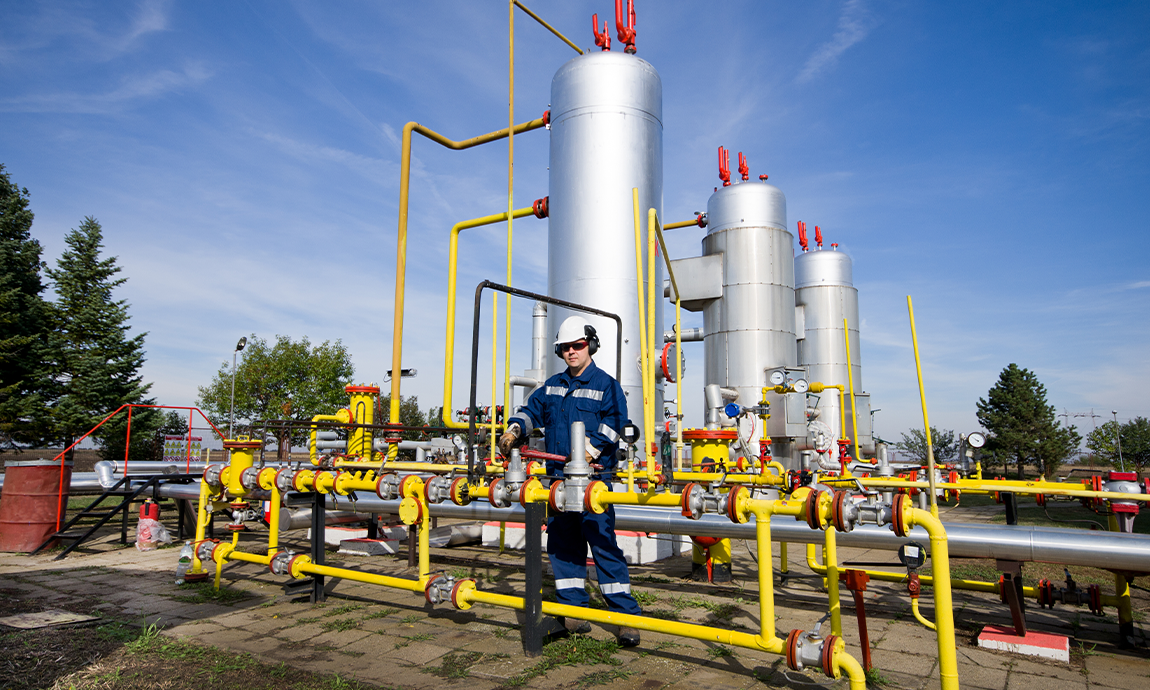 A parabolic rally in European natural gas prices continued Tuesday morning, with the Dutch TTF hub front-month futures price rallying by more than 20% to €182/MMBtu, posting a fresh record high, at a time winter heating season has just kicked-off in the Northern Hemisphere.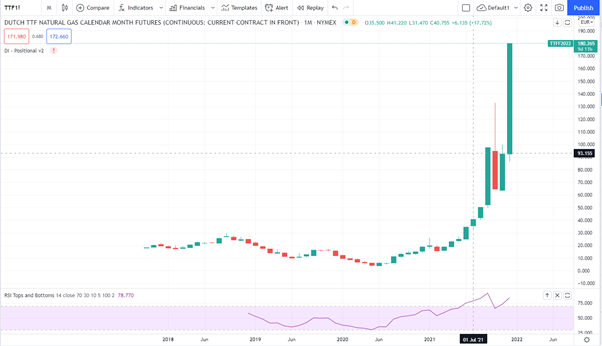 Dutch TTF hub natural gas index, Monthly chart
The rally was extended this morning after reports that Russian gas flows to Europe via Yamal gas pipeline run in reverse for the second day, together with declining wind power output in Germany, lower-than-normal nuclear output in France, and extremely cold weather in the continent.
According to reports, energy traders pushed gas prices to the roof after gas flows entering Germany at the Mallnow compressor station plunged to zero, with flows diverting eastward to Poland.
The lower-than-normal gas exports from Russia forces European utility companies to drain their gas storages, which have fallen to below-the-average levels for this time of the season and start using fossil fuels such as coal for power generation to avoid grid disruption.
How it started:
Several catalysts have pushed the European energy prices to the sky, with the most important to be the delay until July 2022 of the certification for the Russian government-controlled Gazprom's controversial Nord Stream 2 pipeline by German energy authorities, under the pressure of U.S. and allies.
As a result, Putin's administration has been steadily reducing gas flows from Siberia's gas fields to Europe via Yamal pipeline since summer, to add pressure in EU and Germany for the certification of the Nord Stream 2, together with the sign of longer-term gas supply contracts with European countries-customers. mounting pressure on the Ukraine/Russia border.
Meanwhile, the energy crisis has worsened lately after the mounting geopolitical crisis on the Ukraine/Russia border, the lower-than-normal North Sea's and German's wind output due to mild weather, the decline by 30% of France's nuclear power capacity due to unexpected maintenance, and the persistent cold weather in the continent.
LNG arbitrage:
European natural gas is priced with premiums much above Asian and the Henry hub-linked U.S. gas, creating massive arbitrage opportunities for U.S. liquefied natural gas (LNG) commodity traders.
According to reports, uncommitted LNG cargos from the Atlantic basin headed to Asia via LNG carriers are changing their routes to supply European customers willing to pay a heavy premium.
The spread between European and U.S. gas prices is nearly €50/MMBtu, well above its 15-year average due to unexpected gas shortages in Europe and oversupply in the U.S.
The price differential makes the perfect opportunity for gas traders to load LNG cargos in the U.S. on the Henry Hub-linked index and schedule passage to thirsty-for-gas Europe.
Important Information: This communication is marketing material. The views and opinions contained herein are those of the author(s) on this page, and may not necessarily represent views expressed or reflected in other Exclusive Capital communications, strategies or funds. This material is intended to be for information purposes only and is not intended as promotional material in any respect. The material is not intended as an offer or solicitation for the purchase or sale of any financial instrument.