Russian rouble sinks to over 14-month low on Ukraine crisis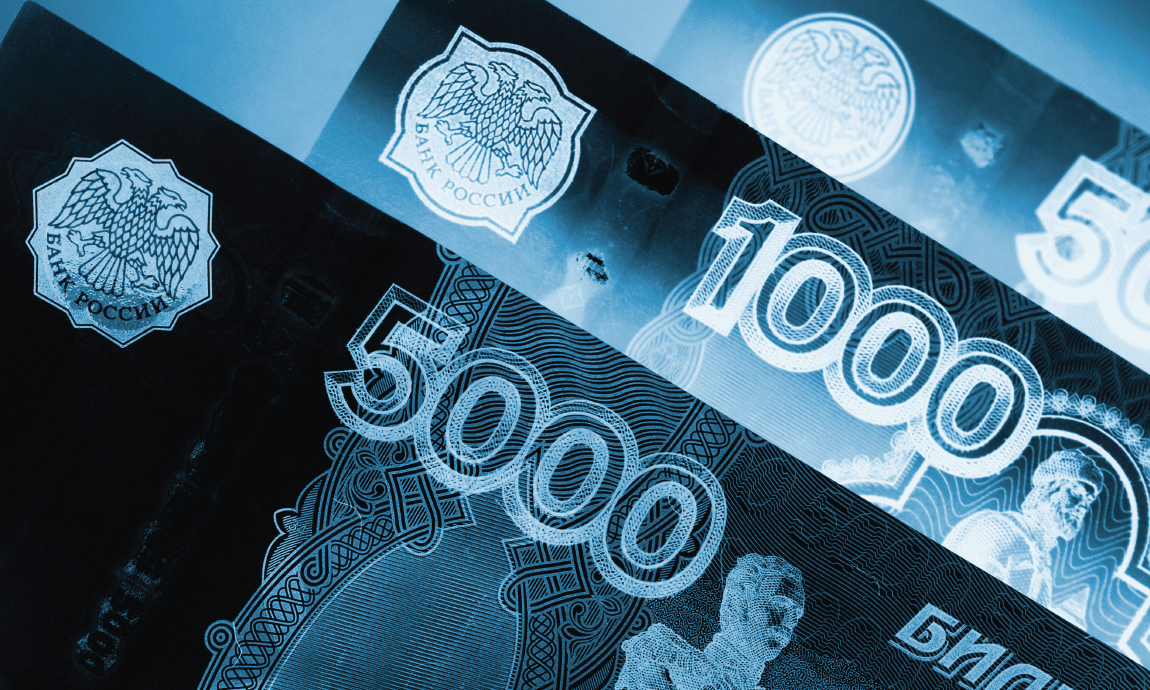 The Russian currency "Rouble" fell 2,5% on Monday, tumbling to as low as 80 against the U.S. dollar and 90 to Euro, its weakest points since November 2020, followed by a fierce sell-off on Russian bonds and stocks, as investors concerned about a potential military conflict in Ukraine.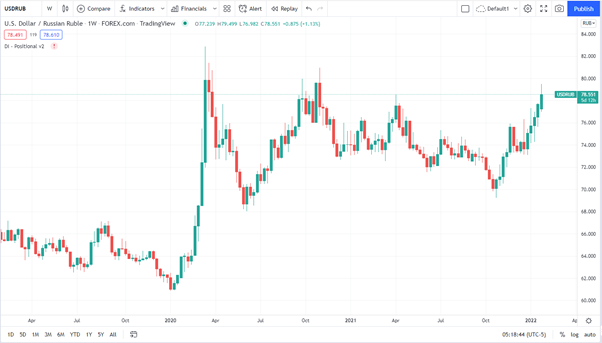 USD/RUB, Weekly chart
Analysts fear for further weakness in Rouble in case of hard-hitting sanctions against the Russian economy are imposed from the Western powers if Moscow escalates hostilities against Ukraine.
Investors also worry that a military confrontation between Russia and Ukraine could prompt Moscow to curb energy supplies to Europe since Russia accounts for 40% of gas supplies to the continent via pipelines.
On the contrary, economists in Russia have not been in a panic mood-at the moment- since the Russian central bank has over $600 billion foreign-exchange reserves, mostly revenues from oil & gas sales, the sovereign debt is very low and held by domestic investors, while the country has developed alternative financial channels that bypass Western ones.
Geopolitical risks weigh on Russian bonds and stocks:
Russian assets were in near-freefall Monday, down almost 10%, with tens of billions of dollars wiped from the value of the country's largest firms following the negative geopolitical situation.
The Russian stock market has been in a major downtrend momentum with the major index plunging 15% since the start of the year and losing more than 30% of its value since October 2021, or more than $200b in value, when Russia's military build-up began.
Its good to be mentioned that the Russian stock market fell by 80% in 2008 during the preview's military conflict in the Caucasus, between Russia and Georgia.
We have seen a selling pressure on Russian government bonds as well these days since they are sensitive to geopolitics, with Russia's 10-year OFZ bond yields surging to near 10%, their highest since early 2016.
Ukraine-Russia border conflict:
Russian assets have been under pressure in recent weeks as a build-up of around 100,000 Russian troops along the Ukrainian border sparked fears from NATO and allies that Moscow was planning an invasion, an allegation the Kremlin has persistently denied.
NATO said it was putting about 8,500 American troops on standby and reinforcing eastern Europe with more ships and fighter jets, in what Russia denounced as an escalation of tensions.
On top of that, Australia, the UK, and the U.S. started partial evacuations of their embassies in Kyiv, the Ukrainian capital, while more Western countries advised people not to travel to Ukraine or Russia.
The U.S. and NATO have ruled out agreeing to Russia's demands that the alliance roll back its troop deployments from eastern members and give a legal guarantee that Ukraine and Georgia will never join.
Important Information: This communication is marketing material. The views and opinions contained herein are those of the author(s) on this page, and may not necessarily represent views expressed or reflected in other Exclusive Capital communications, strategies or funds. This material is intended to be for information purposes only and is not intended as promotional material in any respect. The material is not intended as an offer or solicitation for the purchase or sale of any financial instrument.