Dollar valuation factors in play

I have never subscribed to the theory that interest rate differentials are what determine the value of currencies. Yes, differentials do play a role, but in my opinion a lot less than most people think. Case in point the chart below.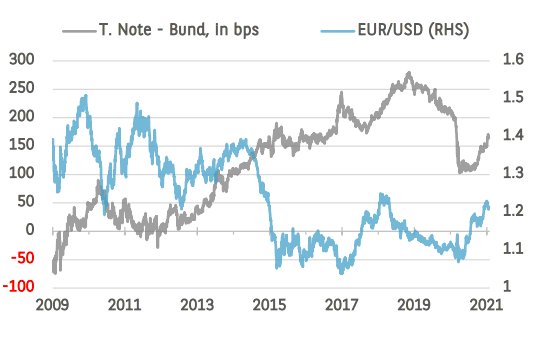 While the yield spread between 10-year US treasuries and 10-year Bunds has increased, this has not stopped the dollar falling almost 10% vs the Euro. Obviously if yield was the main driver of currencies, this should not have happened.
When looking at the current valuation of the dollar, many other factors are in play at the moment, that overshadow yield differentials.
The greatest factor is Inflation tolerance: The Fed has repeated many times that it will tolerate higher inflation for a considerable amount of time, even after the pandemic ends. At the same time, it has also said it will continue to purchase assets for at least the same amount of time.
And contrary to what happened in 2018-2019, when the Fed tried to raise interest rates in order to offset the US government's increased spending, this time around the Fed will do nothing of the sort, instead opting for continued bond purchases and thus preventing yields from rising.
This will probably create a dilemma for holders of US treasuries. And the dilemma is, will the interest earned compensate for the dollar inflation they will incur. The answer is probably not, which might an additional reason for the correction of the dollar.
Finally, because the fed's balance sheet is poised to rise for the foreseeable future, in a way this dilutes the value of the dollar a bit. However insofar as the rise of the Euro vs the dollar, please also remember that the US has a twin deficit while the Euro zone a current account surplus.
Important Information: This communication is marketing material. The views and opinions contained herein are those of the author(s) on this page, and may not necessarily represent views expressed or reflected in other Exclusive Capital communications, strategies or funds. This material is intended to be for information purposes only and is not intended as promotional material in any respect. The material is not intended as an offer or solicitation for the purchase or sale of any financial instrument.