Is peak inflation behind us?

You have probably heard the phrase buy the rumor sell the news. Well, the rumor for a while now has been inflation, and the news is that we are seeing very strong inflationary pressures. At least that is what many pundits say. So far however, the market is not selling the inflation news.
Markets as we know are forward looking mechanisms, and mostly do not price what is happening today but what might happen in the future. Now, the Fed's favorite inflation metric is the PCE, or Personal Consumption Expenditures Index. As the chart below depicts, PCE probably peeked some while ago.

Coupled with the fact that 10- year yields also peeked several months ago (chart below), the Fed might be right in shrugging off the inflation talk, and calling inflationary pressures transitory.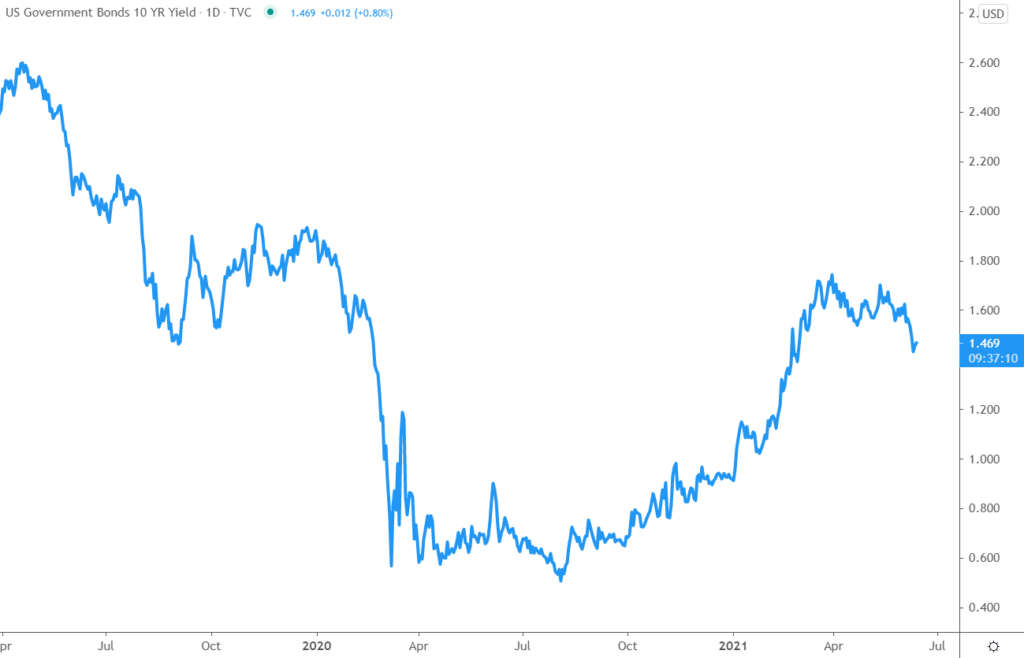 Now I am not smart enough to be able to predict if inflation is transitory, if the Fed is right, or if those who worry about inflation are right. However, the market seems not to worry, and we do have indications that inflation may have peeked several months ago.
If this proves to be correct, then the market is correct in not panicking, and the Fed will also be proved correct with its transitory theory. Either way, if we assume the market is the be the best indicator of what is going on – in the sense that we are not seeing panic selling because of inflation fears - then chances are that inflation, is not a risk to the market overall.
Important Information: This communication is marketing material. The views and opinions contained herein are those of the author(s) on this page, and may not necessarily represent views expressed or reflected in other Exclusive Capital communications, strategies or funds. This material is intended to be for information purposes only and is not intended as promotional material in any respect. The material is not intended as an offer or solicitation for the purchase or sale of any financial instrument.