U.S. and UK CPI inflation prices eased in November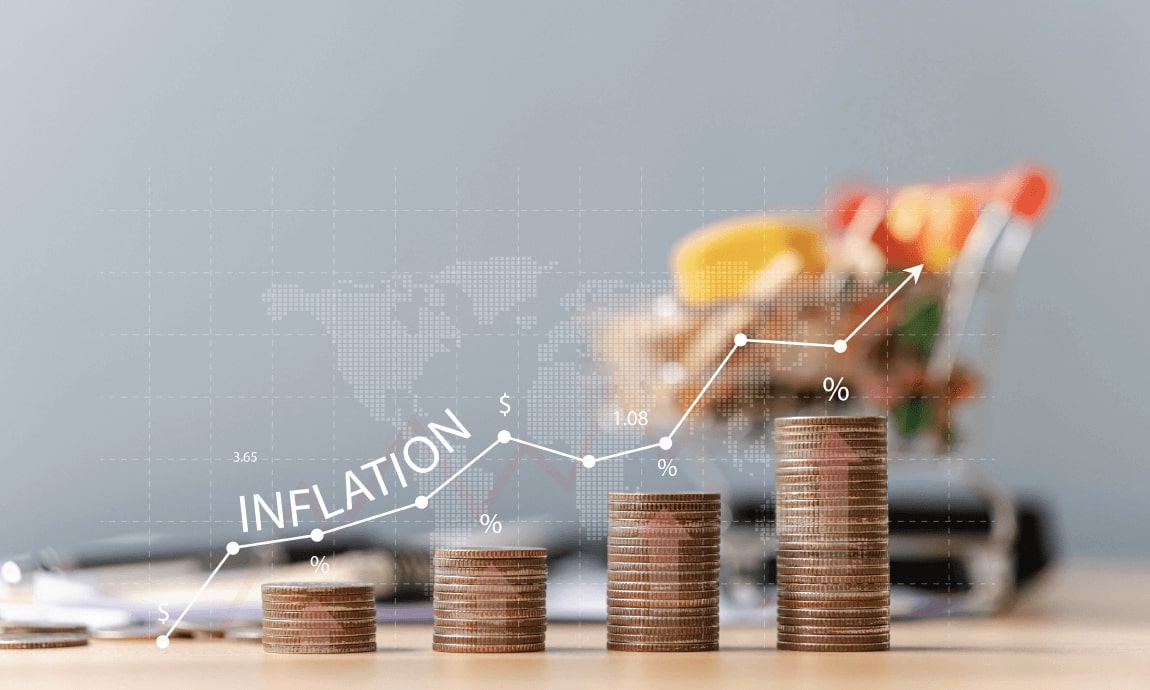 The November 2022 Consumer Price Indices were cooler than expected in U.S. and UK, a sign the annual inflation rate is moderating from its highest level in four decades, as energy, food, and rent prices are coming off their recent highs on the global stage.
Inflation is a measure of how quickly the prices consumers pay for a broad range of goods and services are rising, and the CPI- Consumer Price Index is a key inflation barometer for central bankers, economists, and investors.
With inflation rates hitting 40-year highs this year, societies around the world are suffering their largest fall in living standards since records began, as real household income is expected to decline by nearly 5% in 2022-23.
U.S inflation rose less than expected in November:
U.S. CPI-consumer prices rose 7.1% in November from a year ago, down from October's reading of 7,7%, and less than the 7.3% expected. November's reading was the smallest 12-month increase since December 2021.
The November inflation data of 7,1% is well below its recent 9.1% peak in June 2022, which was a 41-year record high, indicating that the pain for consumers (i.e food, energy, and housing) is becoming increasingly less intense as we are moving to the end of the year.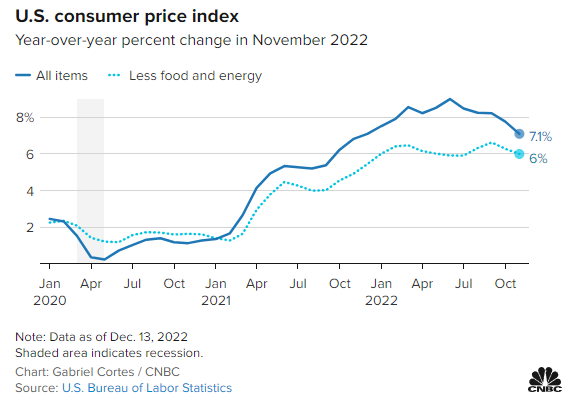 Consumer Price Index for November
On top of that, the so-called core CPI (excluding volatile food and energy prices) rose 0.2% on the month and 6% on an annual basis, compared with respective estimates of 0.3% and 6.1%.
UK inflation falls from 41-year high:
According to the Office for National Statistics, the UK CPI inflation rate had an annual increase of 10,7% in November, down from a 41-year high of 11,1% in October, and less than 10,9% expected.
On a monthly basis, the November increase was 0.4%, down from 2% in October and below a consensus estimate of 0.6%, as cooling fuel (motor) prices helped ease price pressures, though high food and energy prices continued to squeeze households and businesses.
Actions taken by Central Banks to curb sky-high inflation:
Central banks around the world face a tricky task in trying to pull inflation back towards their 2% target while remaining conscious of a weakening economy.
As long as rates remain far above the 2% target for a healthy inflation level, the policymakers will continue hiking fund rates to increase the cost of borrowing and tightening their monetary policies including shedding off-balance sheet items primarily by adjusting the amounts reinvested from maturing securities to remove market liquidity, as part of the larger QT initiative.
Economists expect the main three global central banks, Federal Reserve, ECB, and BoE to announce their next monetary policy move this week, including a rate hike by 50 basis points.
Important Information: This communication is marketing material. The views and opinions contained herein are those of the author(s) on this page, and may not necessarily represent views expressed or reflected in other Exclusive Capital communications, strategies or funds. This material is intended to be for information purposes only and is not intended as promotional material in any respect. The material is not intended as an offer or solicitation for the purchase or sale of any financial instrument.