Brent drops 3% to $83/b despite the EU embargo and G7 price cap on Russian oil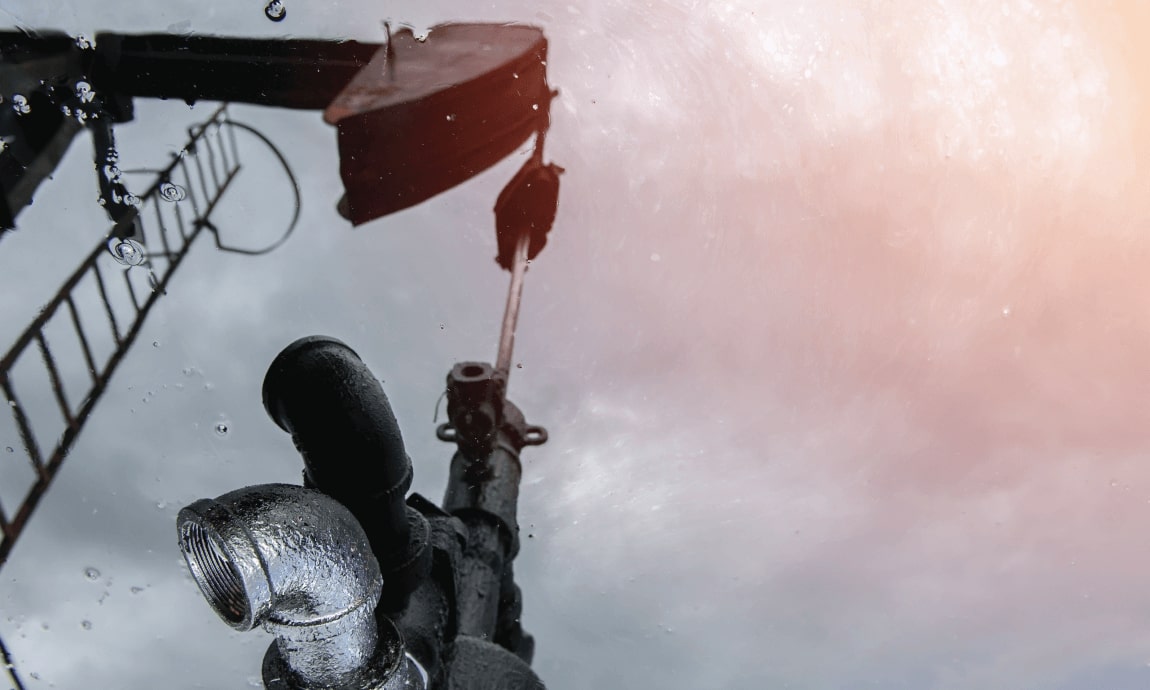 Both Brent and WTI crude oil prices ended Monday's session sharply lower by more than 3% to near $83/b and $77/b respectively, after U.S. ISM Services sector activity unexpectedly accelerated in November, raising concerns that the Federal Reserve could continue to tighten monetary policy aggressively and support the dollar rally, despite Europe's ban and G7 price cap on Russian oil.
The U.S. ISM-tracked services sector showed a reading of 56.5 in November versus 54.4 in October, indicating that the U.S. economy is accelerating, increasing the bets that the Federal Reserve will hike rates above 5% to curb inflation, which will weigh on economic activity and deteriorate the oil demand outlook.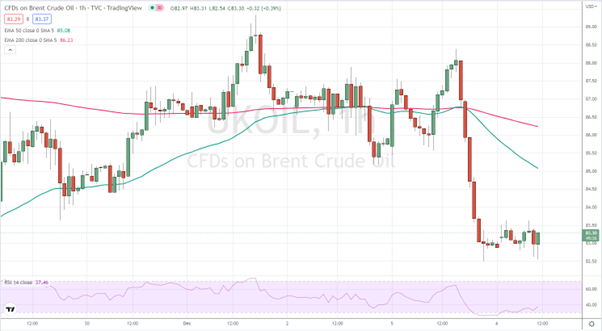 Brent crude, 1-hour chart
The negative close came after a volatile session as the oil prices initially rallied 3% earlier to near $88/b and $83/b following the official kick-off of the EU import embargo, the G7 & EU $60-a-barrel price cap on seaborne Russian oil, and the optimism of a recovery in Chinese fuel demand as several cities in the world's top crude importer relaxed stricter Covid-19 restrictions over the weekend.
The purpose of the price cap by the G7, EU, and Australia is to ban shipping, insurance, and re-insurance companies (mostly Western) from processing cargoes of Russian crude around the globe, unless it is sold in non-EU nations (countries which are not part of the agreement) for less than the price set ($60/b), making it very complicate for Moscow to sell its oil on prices above the cap.
The agreement has also an adjustment mechanism to keep the price cap at 5% below the market price for Russian crude, based on IEA figures. The price cap agreement would be reviewed in mid-January and every two months after that, to assess how it is functioning and respond to possible "turbulences" in the oil market that occur as a result.
The initial idea for a price cap on Russian seaborne oil exports came from the Group of Seven (G7) nations to limit Russia's oil revenues and reduce its ability to finance the illegal invasion of Ukraine.
Russia is the world's third-largest crude oil producer with nearly 10 million barrels per day output, or 10% of the world's oil, just only behind the U.S. and Saudi Arabia.
Kremlin spokesman Dmitry Peskov said that Russia will not accept the price cap on its oil and is analyzing how to respond, adding geopolitical risk to an already tightening global oil market.
Important Information: This communication is marketing material. The views and opinions contained herein are those of the author(s) on this page, and may not necessarily represent views expressed or reflected in other Exclusive Capital communications, strategies or funds. This material is intended to be for information purposes only and is not intended as promotional material in any respect. The material is not intended as an offer or solicitation for the purchase or sale of any financial instrument.