Brent oil falls 8% breaking below $100 for the first time since Ukraine invasion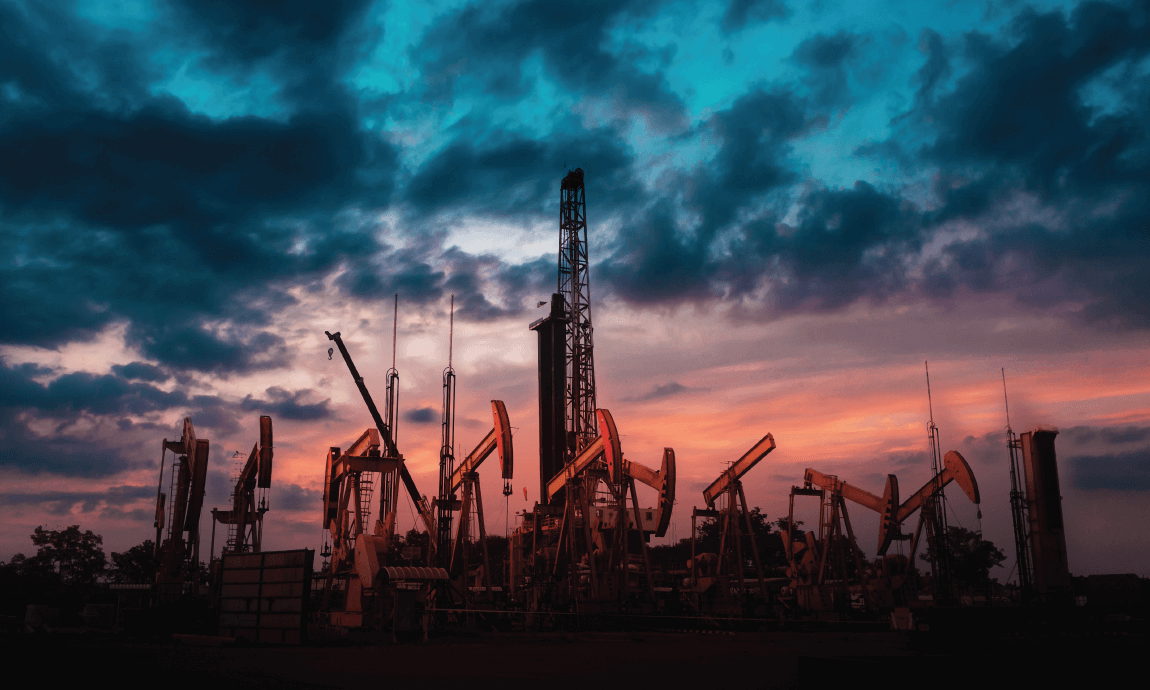 Both Brent and WTI crude oil contracts trade back below $100/b key psychological level on mid-Tuesday for the first time since Russia invaded Ukraine on February 24, 2022, following the positive developments over the ceasefire talks between Russia and Ukraine, combined with the growing concerns over the fuel demand growth after the fresh China's covid-led lockdowns.
Brent fell to as low as $98/b and WTI to $94/b, suffering almost 8% losses since Monday's closing levels, having seen an extraordinary and wild $30+/b price swing since last Monday, March 06, when both prices hit a 13-year high of $139/b and $130/b respectively on fears of supply disruptions in an already tight market, coupled with the Russian economic sanctions.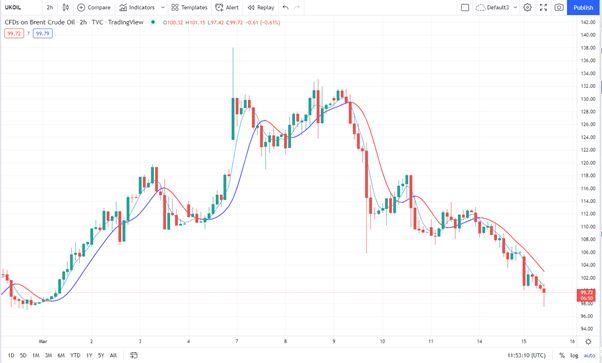 Brent crude, 2-hour chart
With Tuesday's losses, crude oil prices lost the $25-$30 per barrel "Ukraine war" premium built in the prices last week, when both oil contracts jumped above $130/b level on geopolitical fears.
Fears for slower China's fuel demand growth:
Energy traders moved away from the overbought crude oil contracts as China's old-fashioned "zero-Covid" policy weighs on the prospects of the fuel demand growth in the country.
China, which is the largest energy buyer in the world with approx. 10 million barrels per day imports, is facing its worst Covid outbreak in the last two years, with major economic hubs such as Shenzhen and Jilin rushing into strict lockdowns while other states applied social restrictions to curb the spread of the virus on society.
Covid cases surge around the world:
Covid cases are arising around the world, with China reporting double daily Covid inflections on Tuesday from a day before, while Germany continues to mark record high daily infections with over 250,000 new cases a day.
Other European countries such as France, Switzerland, Italy, and the Netherlands are also seeing Covid infections start to rise again, helped by the relaxation of social restriction measures and the spread of a new "stealth" subvariant of omicron strain, known as BA.2.
BA.2 omicron variant, which has been described as a "stealth" variant because it has genetic mutations that could make it harder to distinguish from the delta variant using PCR tests, compared to the original omicron variant, BA.1, is 1.5 times more transmissible than the original omicron strain, and it could be the latest in a long line to emerge since the pandemic began in China in late 2019.
Hedge funds cut bullish bets on crude oil contracts:
According to data, hedge funds and other money managers sold the equivalent of 142 million barrels in the six most important petroleum-related futures and options contracts last week after both Brent and WTI prices surged to multi-year highs of $130/b.
Important Information: This communication is marketing material. The views and opinions contained herein are those of the author(s) on this page, and may not necessarily represent views expressed or reflected in other Exclusive Capital communications, strategies or funds. This material is intended to be for information purposes only and is not intended as promotional material in any respect. The material is not intended as an offer or solicitation for the purchase or sale of any financial instrument.