U.S. & EU natural gas crushed on mild weather and robust supplies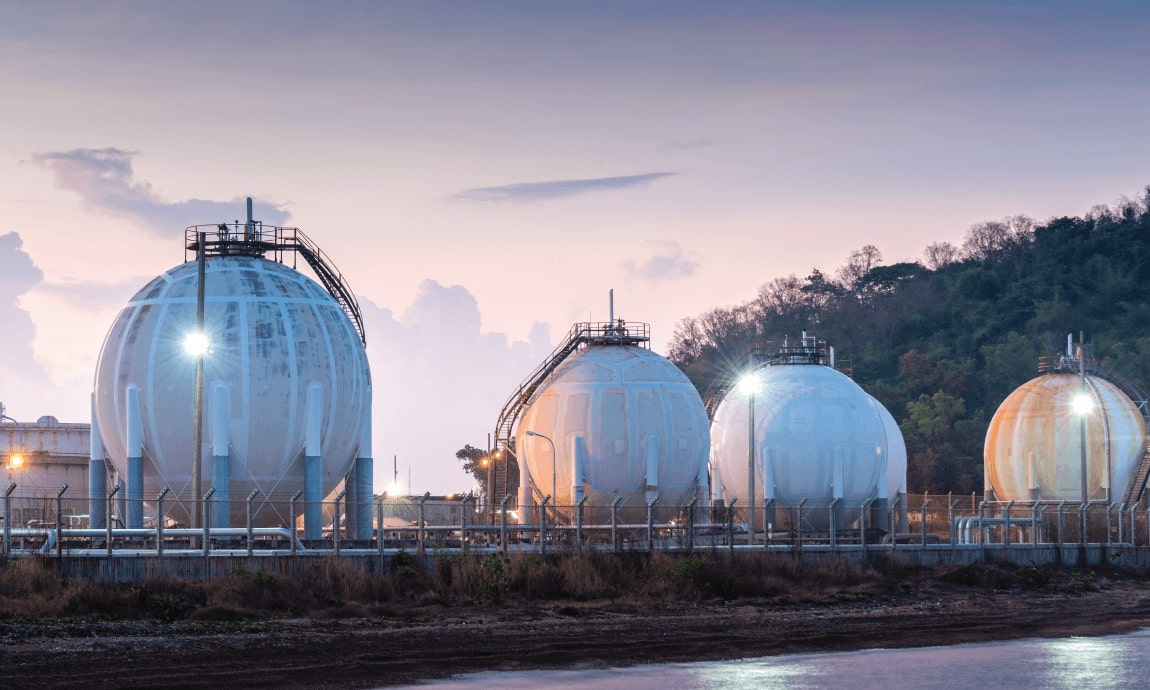 The U.S.-based Henry hub natural gas prices broke below the much-advertised $3/mmBtu support level, while the European natural gas price of Dutch TTF extended recent losses toward the $55/MWh level, amid a combination of actors such as milder-than-normal weather, lower demand, record-high production, Freeport online, and plenty of LNG supplies.
In contrast to what energy analysts were expecting for the gas prices at the beginning of the winter in the Northern Hemisphere a few months ago, the natural gas price on both sides of the Atlantic has been posting significant losses following a broader selloff in the gas market.
The falling gas prices will have a significant impact on reducing what businesses and households pay for electricity and reducing the effects of energy-driven inflation.
Henry hub gas prices break below $3/mmBtu:
The front-month contract on the New York Mercantile Exchange's Henry Hub is moving in a range of $2.70-$2.90/mmBtu (or million metric British thermal units), its lowest level since June 2021, and trading nearly 62% down from 14-year high of $10/mmBtu on August 24, 2022.
The sell-off in the U.S.-based gas prices was triggered by the record-high output of more than 100 bcf/d (or billion cubic feet per day), in the last quarter of 2022, the almost full U.S. gas storage, while the higher-than-normal temperatures continued to reduce demand for heating in houses and buildings.
Adding to the negative sentiment, energy traders sold gas contracts after the news that the 2 bcf/d of gas-capacity Texas-based LNG export terminal Freeport is reported to be readying to resume operations in February, after its sudden closure in June, increasing the gas supply in the already over-supplied U.S. market.
European Dutch TTF gas prices plunged on milder weather:
Sellers have also dominated the European gas market lately, with the Amsterdam-based Dutch TTF gas prices trading in a range of €51-€57/MWh (or per megawatt hour), the lowest level since September 2021, and trading nearly 83% down from an all-time high of €342/MWh on August 26, 2022, after Russia cut the gas flows to Europe via Nord Stream 1 pipeline for maintenance reasons.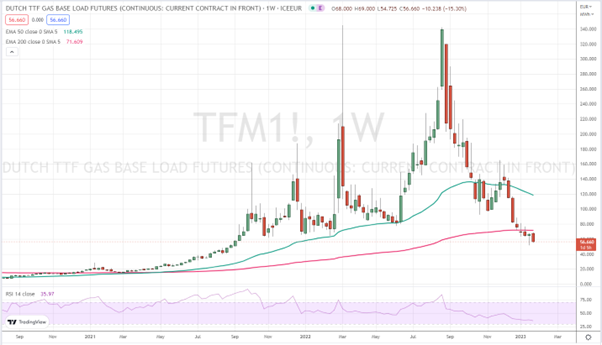 Dutch TTF prices, Weekly chart
Europe's wholesale natural gas prices extended losses below their lowest levels since Russia invaded Ukraine on February 24, 2022, as the warmer weather across the continent and the declining industrial activity have weakened the demand for heating and gas-powered energy by more than 15%.
The lower-than-anticipated gas demand has enabled EU countries to use less gas from storage that was built up in anticipation of cuts in supplies from Russia, which was Europe's main supplier before the war by 40%.
The milder weather has allowed countries to store more gas in their inventory facilities, which stood at nearly 84% at the begging of 2023, importing mainly LNG from the U.S. and Qatar, coupled with gas from Norway, Algeria, and Azerbaijan via pipelines.
The storage levels stand some 30% higher than in 2021 and more than 10% higher than the average of the previous five years.
Important Information: This communication is marketing material. The views and opinions contained herein are those of the author(s) on this page, and may not necessarily represent views expressed or reflected in other Exclusive Capital communications, strategies or funds. This material is intended to be for information purposes only and is not intended as promotional material in any respect. The material is not intended as an offer or solicitation for the purchase or sale of any financial instrument.