Nvidia's 24% gain fuels a strong rally in AI-related tech companies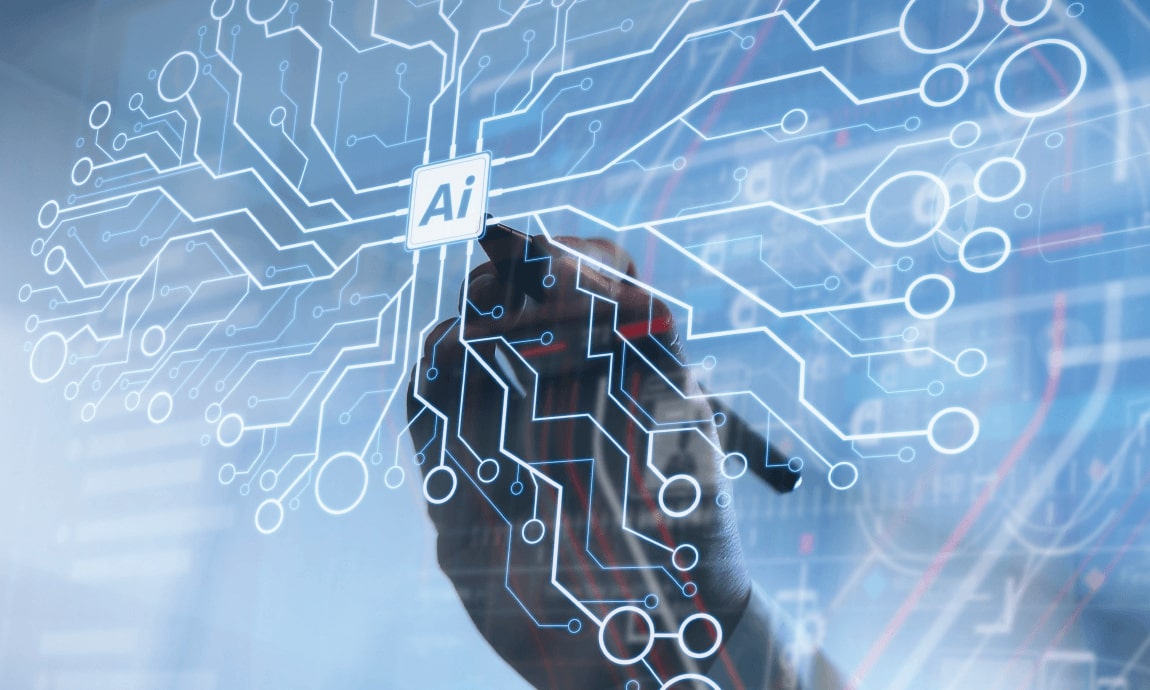 All eyes were on the technology sector yesterday as chipmaker Nvidia's 24% gain ignited a strong rally into other Artificial Intelligence (AI)-exposed tech companies, and chip-heavy indices, and it increased the optimism in the technology sector against the current economic and political uncertainty.
Nvidia Corp soared 24% to a record high close of $379, becoming the world's most valuable listed chipmaker with a market cap of $940 billion after the company forecasted quarterly revenue 50% higher than estimates and said it was ramping up supply to meet the demand for its artificial intelligence (AI) chips.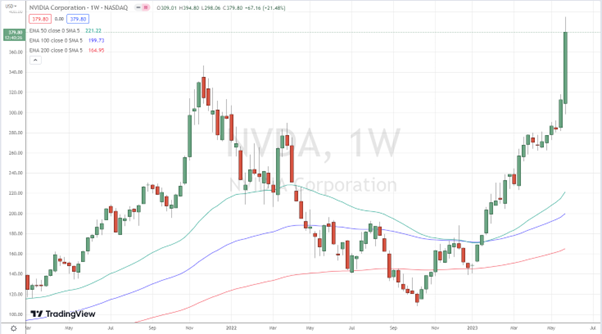 Nvidia stock, Weekly chart
In this AI frenzy, tech-heavy Nasdaq Composite ended sharply higher by 1.7% to 12,698 points on Thursday as the positive earnings from NVIDIA boosted tech stocks that are exposed to the red-hot Artificial Intelligence (AI) space and other tech stocks that are exposed to them.
The Philadelphia SE Semiconductor index-SOX soared 6.8% to its highest level in more than a year in its biggest daily percentage rise since November given the bullish momentum on the sector as investors increased interest in the artificial intelligence race.
Adding to that, the mega-cap AI players Microsoft and Alphabet rose 3.85% to $325 and 2.13% to $123 respectively, Advanced Micro Devices-AMD jumped about 11% to $120, Micron Technology-MU added 4.6% to $69, and Broadcom-AVGO climbed more than 7% to $728.
Artificial Intelligence (AI) frenzy:
Tech investors have turned to Artificial Intelligence (AI) space since last November when Microsoft-backed OpenAI released its ChatGPT bot.
Generative Artificial Intelligence (AI) is the technology that runs by ChatGPT that learns from analyzing vast datasets to generate text, images, and computer code, while businesses are trying to use generative AI to speed up video editing, recruitment, and even legal work.
Shares in Nvidia, AMD, and TSM which makes computer chips that train AI systems, have almost doubled since ChatGPT's launch six months ago, while mega-cap stocks Microsoft, Micron, Broadcom, and Alphabet have gained over 50% in the same period.
Important Information: This communication is marketing material. The views and opinions contained herein are those of the author(s) on this page, and may not necessarily represent views expressed or reflected in other Exclusive Capital communications, strategies or funds. This material is intended to be for information purposes only and is not intended as promotional material in any respect. The material is not intended as an offer or solicitation for the purchase or sale of any financial instrument.