S&P 500 drops into a bear market territory on recession fears and Fed hike pace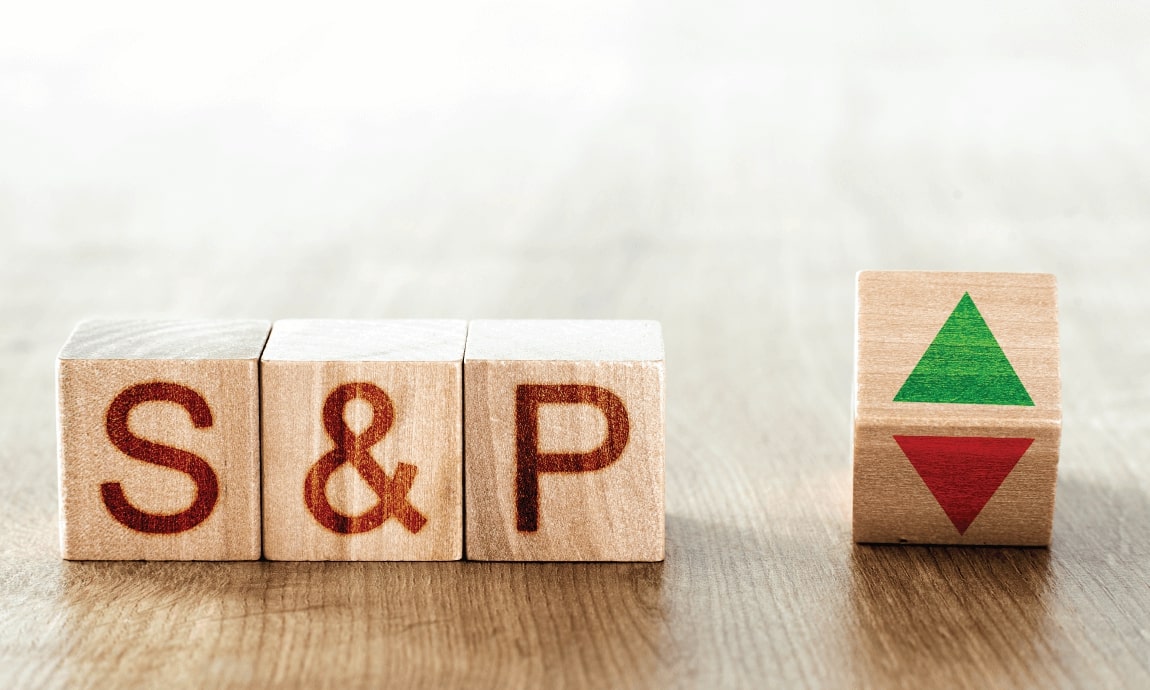 Global financial markets experienced a ferocious sell-off on Monday with the S&P 500 index dropping into a bear market territory for the first time since March 2020 on recession fears and as investors are beginning to anticipate an even faster pace of interest rate hikes by central banks to curb the 40-year high inflation.
Economists concerned that the higher interest rates, the surging inflation, the elevated energy prices, and the falling consumer confidence could slip global economies into recession, forcing investors to dump risky assets such as growth-led tech stocks, travel stocks, and cryptocurrencies and jump into havens such as U.S. dollar, gold, inflation-hedged commodities, and companies that pay consistent dividends.
Market sell-off:
The stock markets hit hard yesterday, with the S&P 500 slumping 3.9% to 3,749, marking its lowest level since March 2021 and dropping into a bear market territory since it lost more than 20% from its January 2022 record. The index closed in bear market territory (down more than 20% from its high) for the first time since March 2020 at the beginning of the Covid pandemic.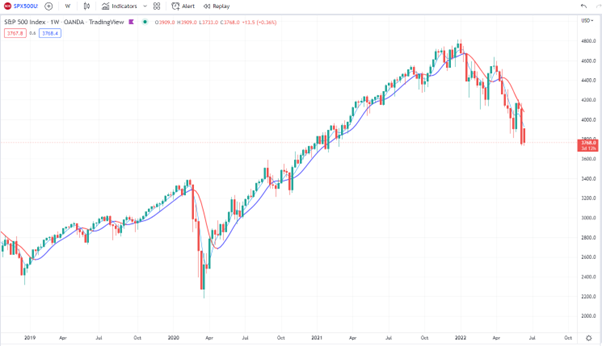 S&P 500 index, Weekly chart
Hence, the tech-heavy Nasdaq Composite dropped nearly 4.7% on Monday, or more than 33% off its November 2021 record following an ongoing meltdown in yield-sensitive and growth-led tech companies, while the industrial Dow Jones tumbled 2.8%, which is roughly 17% off its record high.
On top of that, the market meltdown intensified in the last hour of the session last night after CNBC's Steve Liesman confirmed that the Federal Reserve would consider a 75-basis-point increase on Wednesday, which is greater than the 50-basis-point hike currently expected.
At a time, stocks were sold off on Monday, the 10-year yield posted its largest one-day move since March 2020 to above 3,40%, the safe-haven DXY-dollar index surpassed 105 level, pressuring risk-sensitives Euro briefly below $1,04, and Pound Sterling to near $1,21 mark.
However, the biggest losses were seen in the cryptocurrency sector where Bitcoin fell to as much as 17% to $21,000, Ethereum dropped to near $1,150, Solana to below $30 following the risk-aversion sentiment.
Hawkish Federal Reserve:
Following last Friday's U.S. Consumer Price Index report which showed that the inflation was running hotter-than-expected in May at an 8,6% pace vs 8,3% in April, investors are bracing themselves for the possibility of a larger-than-expected interest rate hike from Federal Reserve this week since the inflation is running well ahead of the Fed's 2% target.
Inflation has been rising to fresh record highs around the world since last year, mainly driven by a record jump in energy and food prices on the backdrop of the Ukraine war, the Covid-led supply chains disruptions, and the demand-supply imbalance across the commodities ecosystem.
Investors see a more than 90% chance of a 75-bps rate hike at this week's two-day Federal Reserve that concludes Wednesday, while the Wall Street firm's economists foresee another 75-bps hike in July, followed by a 50-bps move in September and 25-bps moves in November and December, taking the fed funds rate to a range of 3.25%-3.5% by the end of the year.
Important Information: This communication is marketing material. The views and opinions contained herein are those of the author(s) on this page, and may not necessarily represent views expressed or reflected in other Exclusive Capital communications, strategies or funds. This material is intended to be for information purposes only and is not intended as promotional material in any respect. The material is not intended as an offer or solicitation for the purchase or sale of any financial instrument.