Stocks and crude oil extend losses on recession worries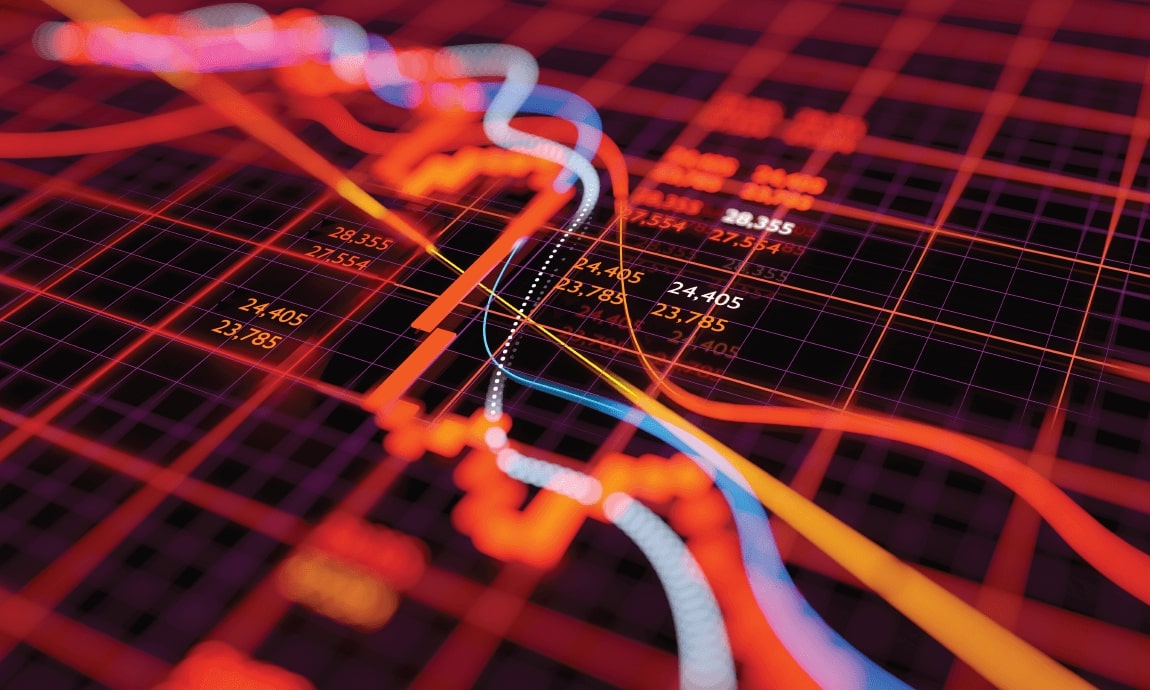 Global financial markets and growth-sensitive crude oil prices are extending losses on Thursday morning as investors worry about the deteriorating economic conditions around the world ahead of further monetary tightening by central banks to curb the four decades-high inflation.
The market sentiment has been negatively influenced lately by the expectation that the two senior central banks, the U.S. Federal Reserve and the European Central Bank will likely issue a 50-basis point interest rate hike next week, increasing the concerns for a longer rate-hike cycle into 2023 in the wake of persistent inflation, strong employment, and service-sector reports.
Money market participants see a 91% chance that the Federal Reserve will increase its key benchmark rate by 50 basis points on December 14 to 4.25%-4.50%, with rates peaking in May 2023 at nearly 5%.
Stocks extend losing streaks:
Tech-heavy Nasdaq Composite and S&P 500 fell on Wednesday, posting their fifth straight session of declines, or 5% losses on the week so far, on concerns that the higher interest rates will cause a steep rise in borrowing costs into the corporate market, and the stronger dollar will lower the export volumes, while Dow Jones broke a two-session losing streak, as it ended unchanged from the previous day.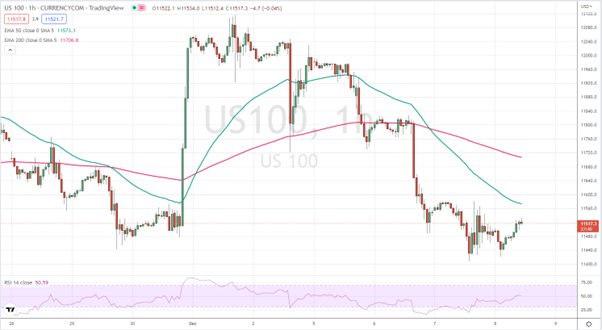 Nasdaq Composite, 1-hour chart
The aggressive rate hikes and monetary policy by Fed have already hit consumer sentiment and demand volumes for tech and other products, lifting growth concerns and sending an alarm for falling corporate revenues into 2023.
Oil prices fell below the $80/b level:
Both Brent and WTI crude oil prices settled 3% lower on Wednesday to near $77/b and $72/b respectively as the energy traders fear that the tightening monetary conditions will likely result in a global recession in 2023, with lower manufacturing and business activity, glooming the crude oil demand growth outlook.
Crude oil prices have fallen to their lowest levels this year, despite the good news coming from China, as the local authorities have relaxed some of the strict Covid mobility restrictions, a decision necessary to help the world's second-largest economy and crude oil consumer to come off from recent economic slowdown.
On top of that, U.S-based WTI crude oil price hit a fresh 12-month low of $71,75/b yesterday following the higher-than-expected weekly U.S petroleum products inventories (gasoline and distillate), increasing the concerns about demand growth from the U.S. market, the world's largest oil consumer.
With these 10% weekly losses, crude oil contracts have given up all their gains for 2022, retreating by almost $60/b or down more than 40% since topping near $140/b in early March because of the Russian-Ukraine conflict, and the supply disruptions.
Important Information: This communication is marketing material. The views and opinions contained herein are those of the author(s) on this page, and may not necessarily represent views expressed or reflected in other Exclusive Capital communications, strategies or funds. This material is intended to be for information purposes only and is not intended as promotional material in any respect. The material is not intended as an offer or solicitation for the purchase or sale of any financial instrument.