Chinese stocks and commodities jump on China Covid-ease rumours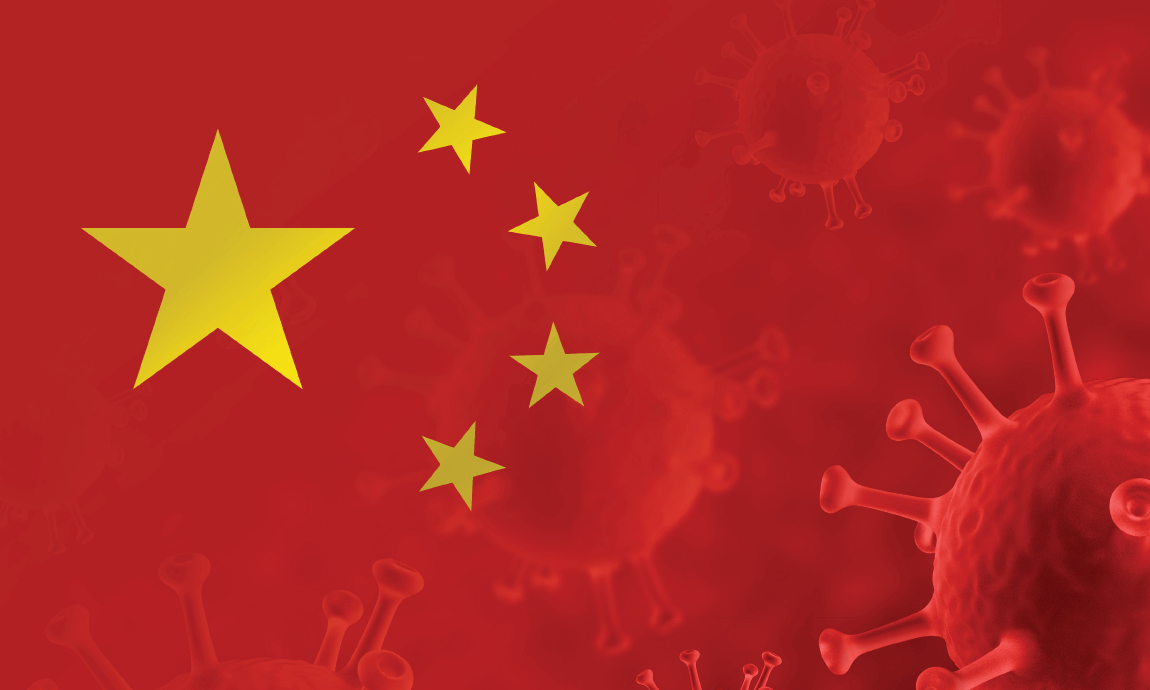 Stocks in mainland China and Hong Kong gained more than 2% and commodities rebounded from their monthly lows during Wednesday's trading session, recording a two-day relief rally driven by some unverified social media posts that China will scale back its strict zero-Covid policy and considering a full reopening by as soon as March 2023, despite the denial from Chinese officials that they were considering such a move.
The buying frenzy for Chinese stocks and commodities started yesterday after economist Hao Hong of Grow Investment Group tweeted that the rumored committee is reviewing data from multiple countries and aiming for a reopening in March next year, forcing investors to close some bearish positions on Chinese assets or proceed with short-covering trades on oil and industrial metals.
A series of strict Covid-led lockdowns in major economic and industrial hubs, weighed heavily on Chinese assets, with major stock indices in mainland China losing more than 30% from early-2021 highs, while the Hang Seng index almost halved in the same period.
China's zero-COVID policy has been a key factor in keeping a cap on commodities prices in the last months, as repeated lockdowns in major economic hubs such as Shanghai and Shenzhen have slowed business and industrial activity, and pared energy and industrial metals demand in the world's second-largest economy.
The positive sentiment didn't reverse yesterday even after the comments from the Chinese foreign ministry spokesperson Zhao Lijian to Reuters that he was unaware of the situation.
Market reaction:
Following the improved risk sentiment, the beaten-down Hang Seng index gained 5% on Tuesday and another 2,5% on Wednesday, before suspending its operations at the back of the issuance of a Tropical Cyclone Warning Signal Number 8 by the Hong Kong Observatory.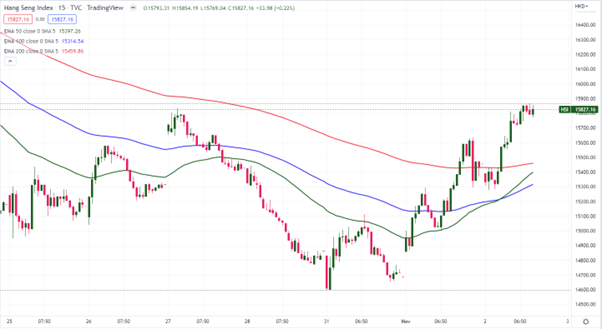 Hang Seng index, 15-minute chart
Hong Kong prepares for the arrival of the severe tropical storm Nalgae, which sustained winds of 63 miles (101 kilometers) per hour and disrupted businesses and air travel as it reached the T8 signal in the morning.
Chinese equities in the mainland have also bounced by more than 5% from yearly lows during the two-days rally, with Shenzhen CSI 300 index jumping to the 10,900 level, while the Shanghai Composite index rose above the 3,000 key level.
The optimism for a reopening of the Chinese economy gave a boost to the commodities prices as well, especially for crude oil and industrial metals. Investors hope that the Chinese demand for commodities will improve next year, with Brent crude gaining 2% to $95,50/b, while Copper and Aluminum added more than 2% to $3,50/lb and $2,260/lb respectively after a two-days rebound from their monthly lows.
Important Information: This communication is marketing material. The views and opinions contained herein are those of the author(s) on this page, and may not necessarily represent views expressed or reflected in other Exclusive Capital communications, strategies or funds. This material is intended to be for information purposes only and is not intended as promotional material in any respect. The material is not intended as an offer or solicitation for the purchase or sale of any financial instrument.